Take a Musical Journey to the South in 'Violet'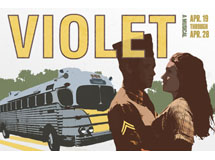 Violet Karl has lived in her "stupid" town of Spruce Pine, N.C., her entire life, and she's ready for a change. Bearing a facial scar accidentally left by her father at a young age, Violet sets off on a bus to Tulsa, Okla., to be healed by a TV evangelist. Bitter, defensive and plucky, Violet is changed by her journey in more ways than she imagined, healing wounds that go far below the surface of her skin.
Presented by the Department of Drama in the College of Visual and Performing Arts, "Violet" runs April 19-28 in the Storch Theatre at 820 E. Genesee St. Tickets are $16-$18, available at 315-443-3275 or by visiting vpa.syr.edu/drama.
Composer Jeanine Tesori weaves rock, country, gospel and blues into "Violet"'s score, reflecting the emotions of each character in the various musical genres. Tesori composed "Shrek: The Musical," "Thoroughly Modern Millie" and "Caroline, or Change," presented last season at Syracuse Stage. For "Violet," Tesori teamed up with librettist Brian Crawley to create a musical adapted from Doris Betts' short story "The Ugliest Pilgrim." "Violet" opened Off-Broadway in 1997 at Playwrights Horizons.
"This show is a lot about self-esteem, inner beauty and feeling like an outsider," says assistant director and SU Drama alumna Aeryn Williams. "We all have our own scars, whether or not they are physical, emotional or mental, and I think that's something people can connect with."
Directed by SU drama professor Rodney Hudson, "Violet" takes place in 1964, a time of change for marginalized racial and ethnic groups, women and America as a whole in the midst of the Civil Rights Movement. Violet has struggled with her appearance for most of her life, due to the scar left on her face by a wood-chopping accident. An outsider open to change, Violet quickly befriends and becomes entangled with Monty and Flick, two young soldiers on the bus ride. Flick, a black soldier from South Carolina, knows first hand what it's like to be an outsider and have people look at you differently, or not at all.
"What I like about her character is that she has such an interesting story," says Carly Blane, who plays Violet. "She suffered so much, she's grown up her whole life with people staring at her and she's a very strong woman. Something that I admire about her is that she decides to take action and to leave her town and try to discover herself."
In SU Drama's production, the complexities of Tesori and Crawley's story are interwoven within the details of the set, blocking and subtext between the characters. Although Violet has two men fawning over her, she is still fighting to make things right with another man in her life— her late father. Violet's story unfolds through a series of flashbacks that are staged simultaneously with her present journey. These moments offer insight into her bitterness and an understanding of why she has had such a visceral response to her scar and complicated relationship with her father.
"When I read it the first time, I thought it was one of the most beautiful stories I've ever read," Blane, a junior musical theater major, says. "I thought it was so different than any other musical. It touched me a lot more personally than a lot of other shows. The thing between inner beauty and outer beauty is something my parents always raised me to believe, and that's something I always like to stand by."