Syracuse Youth Orchestras to Perform April 14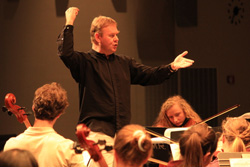 The Syracuse Youth Orchestra (SYO) and Syracuse Youth String Orchestra (SYSO) will present their final concert of the 2012-13 season on Sunday, April 14, at 4:30 p.m. in the West Genesee High School auditorium, 5201 W. Genesee St., Camillus. Tickets are $10 for adults and $5 for patrons age 18 and younger. Tickets may be purchased at the door.
The SYO will perform "Mars" from Holst's "The Planets" as well as three concertos, each featuring a different member of the orchestra. Ella Patsos will perform Weber's Concertino for Clarinet; Hannah Schuldt will perform Fauré's Elegie for cello and piano and Dustin White will perform Mozart's Flute Concertino in D Major.
The SYSO's program will include Holst's St. Paul's Suite, "Orange Jam," by Bishop and "New England Holiday" by Washburn, which will feature SYO wind players.
During intermission, the orchestras will hold a recognition ceremony to honor their senior members.
The Syracuse youth orchestras are part of the Community Music Division of the Rose, Jules R. and Stanford S. Setnor School of Music in the College of Visual and Performing Arts. The SYO is conducted by James R. Tapia, and the SYSO is conducted by Muriel Bodley.
The Syracuse youth orchestras consist of middle and high school student musicians from Central New York. Playing in these ensembles helps students grow musically and intellectually and learn discipline and teamwork that will benefit them throughout life.
For more information, contact Kim Rossi at Syracuseyouthorchestras@gmail.com.