SU Launches Second Round of Connective Corridor Façade Improvement Program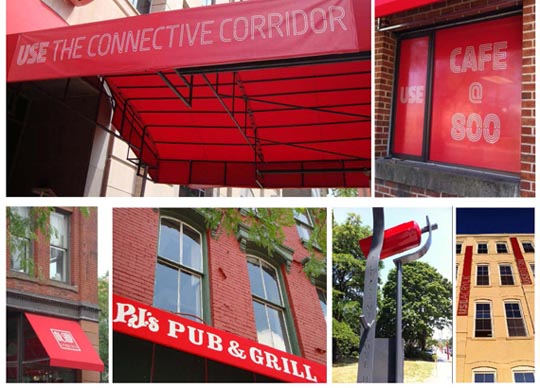 Syracuse University has announced the launch of the second round of the Connective Corridor Façade Improvement Program on the strength of a $250,000 award through Gov. Andrew M. Cuomo's regional council initiative. SU was awarded $250,000 from the Central New York Regional Economic Development Council (CNYREDC) to support the continuation of this important and successful program.
Applications for this new round are now being accepted by SU's Office of Community Engagement and Economic Development and are available online at connectivecorridor.syr.edu/resources.
Funding is allocated on a first-available basis until expended.
"All along the Connective Corridor now we're seeing its vivid and engaging design signature taking hold," says Syracuse University Chancellor and President Nancy Cantor, who co-chaired the Central New York Regional Economic Development Council. "Cross-sector partners from University Hill and across downtown to the Near West Side now are proudly flying the corridor's colors on visually stimulating signage, awnings, benches and more. This new round of grants gives even more businesses and organizations a chance to enhance the corridor brand and strengthen the signal that the Connective Corridor is an engaging place to be."
"The Connective Corridor Façade Improvement Program enhances the Connective Corridor brand and its value to our entire community by encouraging businesses and property owners to make new investments," says Robert M. Simpson, president of CenterState CEO and co-chair of the CNY Regional Economic Development Council. "This round of funding will further the Connective Corridor's mission of strengthening ties between downtown Syracuse and University Hill, two of the region's most important economic engines."
Assemblyman Bill Magnarelli, a member of the CNY Regional Economic Development Council, says, "This new round of investments for businesses to enhance their visibility and add to the distinctive marketability of the Connective Corridor can only benefit our community, residents and surrounding neighborhoods."
The new grant expands on the work completed through the first round of the program, a reimbursable program administered by SU providing funding assistance for façade improvements to properties along and adjacent to the Connective Corridor. The façade improvements enhance the urban experience in University Hill and downtown Syracuse and make them more attractive for private investment, commercial or mixed-use development.
The Phase One grant provided $625,000 in funding for 40 projects. The majority of the projects were completed in 2012 and the remainder will be completed this year. Empire State Development, the state's economic development agency, is providing the funding for the second round of grants.

A dramatic conclusion to the first round of façade projects will be the upcoming illumination of St. Paul's Episcopal Cathedral and the Milton J. Rubenstein Museum of Science and Technology (MOST).
"St. Paul's Episcopal Cathedral had hoped to illuminate its 200-foot spire for years, and that dream will soon come true," said Thomas Cantwell, St. Paul's warden, who worked with the Connective Corridor Façade Committee to bring this project to life. "The Very Rev. G. Thomas Luck, dean and rector of St. Paul's, saw the Connective Corridor's Façade Improvement Program as an opportunity to bring that dream to fruition. Beyond lighting the iconic spire, the project will also illuminate four stained-glass windows, helping St. Paul's stand out, even after twilight, as one of the oldest and most beautiful buildings in Downtown Syracuse."
"The Milton J. Rubenstein Museum of Science and Technology is excited to participate in the Connective Corridor Facade Improvement Program. The exterior lighting of the east side of our architecturally significant building will act as a powerful beacon, leading visitors down Jefferson Street and welcoming them to historic, vibrant Armory Square," says MOST President Larry R. Leatherman.
Projects are chosen by a community-based façade review committee that includes representatives from the City of Syracuse and the Downtown Committee; SU faculty and staff with experience in architecture and landscape design; and other community members with expertise in historic preservation, real estate and community development. The maximum award is $25,000 per property, and applicants must provide a 10 percent equity match toward the amount awarded.
"The program encourages the development of a distinct identity for the Connective Corridor in a way that respects and preserves the unique or historical character of individual properties while including design elements that mark the route and create opportunities for business development," says Linda Dickerson Hartsock, director of the Connective Corridor in SU's Office of Community Engagement and Economic Development. "The goal is to highlight the Connective Corridor as a streetscape improvement district that ignites arts and culture, tourism, business and residential development and external investment through capital improvements and to promote an attractive, continuous identity for the corridor."