SU Arts Engage to Present Grammy-Nominated Harlem Quartet April 19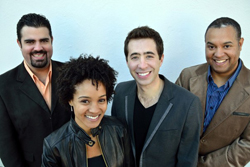 Syracuse Friends of Chamber Music and Syracuse University Arts Engage, with support from CNY Arts, will present the Grammy-nominated Harlem Quartet on Friday, April 19, at 7:30 p.m. in Setnor Auditorium in Crouse College.
The Harlem Quartet is a string quartet with a difference. They've played the classics with such distinguished artists as Itzhak Perlman and Misha Dichter and performed with jazz legends Chick Corea and Gary Burton with equal ease.
Their engaging personalities have earned them invitations to perform for President and Mrs. Obama at the White House, and to appear on Christmas morning on the "Today Show."
Their widely appealing Syracuse program will include string quartets by Mozart and Beethoven as well as Chick Corea and Wynton Marsalis.
Tickets are $20 general admission, $15 for seniors and free for all students and SU faculty/staff. Tickets may be purchased at the door. This concert is not included on SFCM subscription series.
For more information, contact SU Arts Engage at 315-443-0296.