Students Merge Scholarship with Spoken Word April 21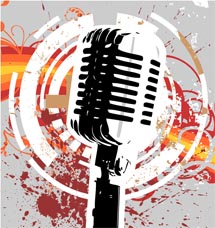 Verbal Blend, a spoken-word poetry program out of the Office of Multicultural Affairs, will host its campus-wide "Take the Mic" poetry slam on Sunday, April 21, at 7:30 p.m. in Schine Student Center Underground. Doors will open at 7 p.m. Admission is free with a ticket from the Schine Box Office.
The poetry slam is a competition that includes students from SU, SUNY ESF and Onondaga Community College. They will read or recite original material up to three minutes. The competition is two rounds that will be based on originality, stage presence, content, delivery and time. Trophies will be awarded to the students who finish in first, second and third place.
"'Take the Mic' poetry slam allows students to express their brilliance from the classroom to the stage," says Cedric Bolton, coordinator of student engagement in the Office of Multicultural Affairs. "The campus and community will be captivated by the powerful expression and scholarship of our students."
Verbal Blend is a spoken-word poetry program designed to enhance students' confidence in writing and performance of original poems. The program comprises a six-week workshop series on poetry forms, formats, journal entries and peer reviews.
Participants have showcased their work at public venues, such as themed open mic nights, Light Works' 2009 Night Artist Reading/Reception with Admas Habteslasie, a day workshop with poet Quyarsh Ali Lansana, SU's annual Martin Luther King Jr. Celebration, Take the Mic poetry slams, Ayo Technology Skype with the University of Minnesota and a special reading with author Tracy Sugarman.
The event is sponsored by Verbal Blend with support from the Poet's Learning Community and Nu Rho Poetic Society.
To sign up for the slam, contact Bolton at 315-443-9676 or ctbolton@syr.edu.