Students Continue to Lead White Ribbon Campaign on Campus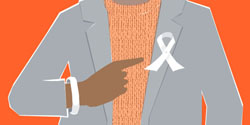 The Division of Student Affairs continues its on-campus efforts to support the 19 annual Vera House White Ribbon Campaign, led by student co-chairs, Ashlee Newman and Paul Ang. Wearing a white ribbon or wristband during this campaign period makes an important statement that you will not condone, support or commit domestic or sexual violence.
Vera House's 2013 White Ribbon Campaign officially begins April 12 and runs for 10 days. The goals of the campaign on campus are to raise awareness about domestic and sexual violence, to educate the SU community about domestic and sexual violence and resources, and to raise funds for programs at Vera House. For a few days starting April 9, the Hall of Languages will be lit in purple, the color used nationally to denote domestic violence awareness, to mark the presence of the campaign on campus. SU's campaign will continue through April.
Members of the campus community have opportunities to contribute to the campaign by purchasing bracelets, pins or ribbons from various campus cafes and the SU Bookstore, and in residence and dining halls. They can also be ordered through the student affairs dean's office by emailing ddowdall@syr.edu.
Student co-chairs Newman and Ang kicked off the campus campaign on Wednesday, March 6, at the men's basketball game versus DePaul in the Carrier Dome. Otto and members of the Spirit Squad wore white ribbons and bracelets in support of the campaign and white ribbons, bracelets and pins were available for all SU fans in attendance. Newman and Ang are deeply committed to the campaign and this important work in our communities. ‬‬‬
"I believe in the White Ribbon Campaign because issues of domestic and sexual violence are a men's issue," say Ang, second-year master's student in engineering at SUNY-ESF. "I am involved because men need to see other men taking an active role in the effort to end domestic and sexual violence."
The campaign has continued to have a presence on campus following the basketball game, through the support of student organizations, including the Student Association and A Men's Issue, as well as the Advocacy Center. A Men's Issue will host its annual Break the Silence event on April 9, and the University's annual Take Back the Night takes place April 10, beginning at 7 p.m. at Hendricks Chapel.
According to Vera House, females between the ages of 16 and 24 experience the highest rate of domestic violence. In 2010, Vera House sheltered 474 women, children and men; provided youth counseling services to 380 children; taught 446 men in the domestic violence education and accountability program and reached 16,047 people through their school-based, community and professional education programs. Vera House continues to be the primary resource in Onondaga County for people experiencing domestic and sexual violence.
Vera House aims to end all domestic and sexual violence; to assist families in crisis; to support those affected by domestic and sexual violence to live safe, self-sufficient lives; to empower women and children and to promote a culture of equality and respect in all relationships.
For more information, contact student affairs at studentaffairs@syr.edu.