Students and Organizations Recognized at 44 Stars Event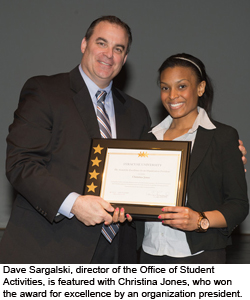 The Office of Student Activities within the Division of Student Affairs honored individual students and recognized student organizations for their hard work and dedication at the 44 Stars of Excellence Awards and Gala Celebration on April 11 at Goldstein Auditorium in the Schine Student Center. Macy's and Bloomingdales sponsored the event.
The award recipients were as follows:
The Mary Ann Shaw Center for Public and Community Service Award
Individual: Kwasi Boadi
Organization: Habitat for Humanity
The Macy's Rising Star Award
Individual: Christopher Moncrief
Organization: Disability Student Union
The Student Association SU Spirit Award
Individual: Kevin Belbey
Organization: Otto's Army
The Associate VP Award for Positive Advocacy
Individual: Amanda Claypool
Organizations: NYPIRG, Student African American Society
The Slutzker Center Award for Cultural Diversity
Individual: Yuming Huang
Organization: SCOPE
The Student Activities "Live It" Award for Excellence in Leadership
Individuals: Rachael Card, Greston Gill, Eddie Zaremba, Leah Nussbaum
The Student Activities Award for Creativity and Ingenuity
Individual: Cole Tucker
Organization: Alpha Phi Alpha
The Award for Excellence by an Organization President
Individuals: Christina Jones, Yuming Huang
The Career Services Emerging Leaders Award
Individual: Sawyer Cresap
The Class of 2013 Citizenship Award
Individuals: Ivan Baking, Dan Cowen
The Senior Vice President Award for Outstanding Senior Leadership
Individuals: Andre Sadler, Kishauna Solijour
The Student Leadership Institute Award
Individual: Dominique Pinon
The Award for Outstanding Philanthropy Programming
Organizations: Omega Phi Beta Sorority Inc., Phi Iota Alpha Fraternity Inc.
The Student Centers and Programming Services Award for Excellence in Programming
Organizations: Phi Beta Sigma Fraternity Inc., Nalfo
The Division of Student Affairs Award for Collaboration
Organization: Nalfo
The Public Affairs Award for the Most Outstanding Media Production or Publication
WERW
The Musical Performing Group of the Year Award
Orange Appeal
The Bloomingdale's Entertainers of the Year Award
DanceWorks