Student Volunteers Help Clean East University Neighborhoods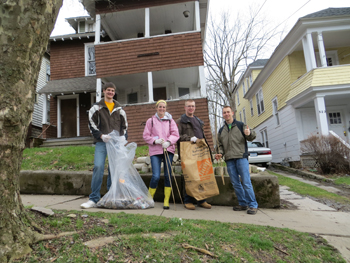 Some neighborhoods east of campus are cleaner today thanks to the efforts of more than 100 members of the Syracuse University community. As part of "Clean up 'Cuse," nearly 120 student volunteers fanned out in the neighborhoods, and filled garbage bags with debris.
The entire process took about three hours, according to off campus and commuter services coordinator Kerry Heckman. "I had people come back after a couple hours and say, 'I'm done, now what?'" Heckman says.
April 13 was the designated clean up day, done in conjunction with Earth Day. Volunteers filled the trash bags, which were then picked up by the Onondaga County Resource Recovery Agency. This is part of the county-wide cleanup, which involves thousands of volunteers. This particular effort allowed students to make a difference in the neighborhoods that surround the campus.
"I can't say enough about the mountain of service these students take part in," Heckman says. "It's all about service and engagement, and we saw a lot of it during the cleanup."
Last year, volunteers in Onondaga County collected 57,000 pounds of trash. Nearly 6,500 people took part, including student and staff volunteers from SU.