Stress and Health Focus of Keynote at Department of Psychology Poster Session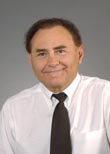 The relationship between stress and health in those caring for loved ones is the topic of the keynote address to mark the occasion of the 20th Annual Undergraduate Poster Session, hosted by the Department of Psychology in The College of Arts and Sciences on May 1 in the Panasci Lounge in the Schine Student Center.
Syracuse University alumnus and noted psychologist Peter P. Vitaliano G'75 will present "Caregiver Research as Interdisciplinary Psychological Science." The poster session will be held from 9-11 a.m., followed by Vitaliano's talk at 11 a.m. The event is free and open to the public. Parking is available in SU's paid lots.
The poster session will feature the work of undergraduate psychology majors who have been involved in mentored research with psychology faculty. About 25 students will present work in the areas of clinical, cognitive, social and school psychology. Additionally, several students will present posters on their applied internship experiences.
Vitaliano is professor of psychiatry and behavioral sciences and director of the Stress and Coping Project at the University of Washington School of Medicine. During his lecture, Vitaliano will review research on the psychosocial, behavioral, physiological and cognitive outcomes of chronic caregiver stress, with a focus on spouse caregivers of people with Alzheimer's disease.
Vitaliano has spent more than 25 years researching the relationships between stress and health in a number of high-risk populations. His long-range research goal is to better understand the mechanisms by which chronic stress translates into physical, mental or cognitive health problems. To accomplish the goal, Vitaliano's research team is examining caregivers of spouses with Alzheimer's disease and demographically similar spouses who are not caregivers and assessing the degree to which elevated depression, inflammation and insulin resistance in caregivers predict cognitive decline in caregivers relative to non-caregivers.
Vitaliano holds a bachelor's degree in psychology and mathematics from Queens College of the City University of New York and a master's degree and Ph.D. in psychometrics and psychology respectively from SU's College of Arts and Sciences. He is the author or co-author of more than 140 scientific publications, has presented his research all over the country and internationally and is a board member of a number of scholarly journals. Vitaliano is a fellow of Adult Development and Aging, and Health Psychology for the American Psychological Association and a fellow of the Gerontological Society of America, the Society of Behavioral Medicine, and the Academy of Behavioral Medicine Research.