Spring Cleaning Takes Place in Thornden Park
Students Join Thornden Park Association for Park Clean-Up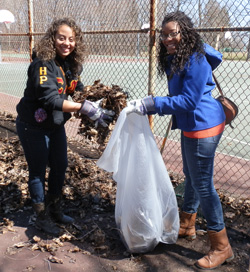 Thornden Park shook off the remnants of winter with the help of a group of SU students over the weekend.
Volunteers from the Thornden Park Association directed teams of students as they cleaned up debris from the basketball courts and the amphitheater, weeded brick sidewalks and removed the coverings from the Rose Garden April 6.
The effort was organized for Central New York TRIO Day, part of a national day of service for students within the federally funded TRIO programs. The TRIO programs (Talent Search, Upward Bound, Upward Bound Math/Science, Veterans Upward Bound, Student Support Services, Educational Opportunity Centers, and the Ronald E. McNair Post Baccalaureate Achievement Program) provide outreach and assistance to promote student success as they enter and graduate from college.
Students who've accessed SU's Student Support Services and Ronald E. McNair Post-Baccalaureate Achievement Program participated in the effort as a way to give back to the community.
"Students had a lot of fun and left feeling empowered, knowing that by joining forces with fellow students and volunteers from the Thornden Park Association, they were able to accomplish a significant amount of work and better their community at the same time," says Amy Maye, an academic counselor with Student Support Services and chair of CNY TRIO Day.
"CNY TRIO Day reminds students that education is a civic activity and that they can make significant contributions to the Central New York community," Maye says.
The dozen SU students were joined by other members of TRIO programs from Le Moyne College Upward Bound and Cornell University Ronald E. McNair Post-Baccalaureate Achievement Program. SUNY College of Environmental Science and Forestry students also joined in the cleanup efforts. A total of more than 40 students donated more than 80 hours of community service.
The students gathered for a luncheon at the Hall of Languages after their efforts. They learned about the various TRIO Programs—and learned each other's stories. "Students shared their stories about who they were, where they were from and how TRIO has helped them reach their goals in their lives," Maye says.
This was the first year for CNY TRIO Day, which resulted from a collaboration between TRIO Programs in Central New York, and organizers hope to expand it next year.
The event highlights how TRIO Programs benefit the community as federal tax dollars are spent on increasing high school and college graduation rates in Central New York. "Between SU's Student Support Services and the McNair program, and Le Moyne College's Upward Bound, these programs bring in about $5 million in a five-year grant cycle," Maye says.