Social Media Manager for Disney to Visit Newhouse April 8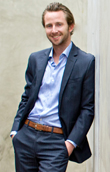 Matt Prince, social media manager for the Walt Disney Co., will visit the Newhouse School on Monday, April 8, speaking at 7 p.m. in the Joyce Hergenhan Auditorium in Newhouse 3. Follow on Twitter at #brandingprince.
Prince founded his own creative agency, launched two successful blogs read in more than 100 countries, led the communications department for one of the most influential business organizations in California and was tapped as an executive speech writer for one of the most famous brands in the world—all by age 26. He was named to OC METRO Magazine's "40 Under 40" list in 2011.
Prince previously served as senior manager of executive communications for Disney, handling speech writing and strategic communications for executives at Disneyland Resort.
Before joining Disney, he served as director of communications for the Orange County (Calif.) Business Council, where he was responsible for all marketing, media, web and communication operations. Prior to that, he worked in the City of Anaheim, Calif., public information office, where he was responsible for the strategic marketing campaign for the city's 150th anniversary.
In 2007, Prince founded what is now the Socialadder, a creative agency and publishing company in Orange County. He has also launched two blogs: The Princeples of Dating and The Princeples of Business, which are now syndicated and reach more than 50,000 readers quarterly. Prince is also founder and chief editor of Beehooved, a digital media news site.
A native of Southern California, Prince serves on the boards of the Orange County Public Relations Society of America; Linked OC; the Orange County Forum and National History Day—California Executive Council. In addition, he is a volunteer with the Orange County Red Cross; the Muscular Dystrophy Association; Mothers Against Drunk Driving and Big Brothers Big Sisters of Orange County.
His talk is sponsored by the public relations department and the SU chapter of the Public Relations Student Society of America. For more information, contact Emelia Armstead at 508-627-2162 or eearmste@syr.edu.