'Red Pine' to Lecture on Zen Masters of China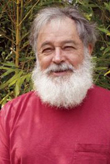 Bill Porter (pen name Red Pine) will be giving a talk, "Ancient to Modern:  Zen Masters of China," April 22 at 7 p.m. in the Hall of Languages, Room 500.  This event is co-sponsored by the Student Buddhist Association, Hendricks Chapel, the Religion Department, Chinese studies and the Student Association. The talk is free and open to the public.
Parking at a cost of $4 will be available at Irving Garage, and handicapped parking will be available on the Quad. For more information about this event, contact slkistle@syr.edu.
Bill Porter "is an American author who translates (Chinese Taoist and Buddhist texts and sutras) under the pen-name Red Pine" (Wikipedia).  Unusual among such scholars, his appeal extends to students and practitioners as well as fellow scholars.
His translations of "The Poems of Cold Mountain" (1983) and "The Mountain Poems of Stone House" (1985) were among the first of many important translations of Buddhist texts. His book "Road to Heaven: Encounters with Chinese Hermits" (1993, published under the name Bill Porter), details his own exploration of the hermit tradition in China and his meetings with various contemporary Chinese Buddhist hermits (Tricycle, Winter 2000), and was the inspirational basis for the 2005 film, "Amongst White Clouds," directed by Edward A. Burger, detailing his own experiences with "Buddhist hermits in the Zhongnan Mountains" (Wikipedia).
Recognized by both Westerners and Chinese as "an authority on Chinese religious culture" (Tricycle, Winter 2000), Porter's deep passion for the writings of ancient Chinese hermit-monks, as well as for the wisdom of contemporary Chinese hermits allows these voices to become accessible to everyone:  students, scholars and practitioners alike.