Arts & Culture
Rabinovich Named 2013-14 Ginsburg-Klaus Post-M.F.A. Engagement Fellow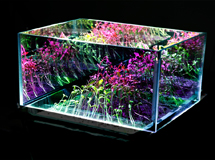 The College of Visual and Performing Arts (VPA) has announced Misha Rabinovich G'13 as the recipient of the 2013-14 Ginsburg-Klaus Post-M.F.A. Engagement Fellowship. The academic yearlong fellowship, which includes a residency in San Pedro, Calif., is funded through a gift by VPA alumna Marylyn Ginsburg-Klaus '56, G'57 and her husband, Charles Klaus '07, who both serve on VPA's Advisory Council.
Graduates of VPA's master of fine arts (M.F.A.) degree programs in the departments of Art and Transmedia are eligible for the Ginsburg-Klaus Post-M.F.A. Engagement Fellowship, which includes housing in San Pedro, a stipend and the opportunity to teach at Marymount California University.
"The college established this fellowship last year with the support and generosity of Marylyn and Chuck, who are committed to the education and development of young artists," says VPA Dean Ann Clarke. "As our second fellowship recipient, Misha can draw from his many experiences at Syracuse University as he embarks on what I'm sure will be a successful career as an artist and educator."
Rabinovich will complete an M.F.A. in computer art from the Department of Transmedia in May, and previously completed a B.S. in electronic arts at Rensselaer Polytechnic Institute. He is perhaps best known in the Syracuse community as a member of the DS Institute art collective, which produced the Mobile Sauna project, among other local artistic efforts. Heath Hanlin, associate professor and chair of the Department of Transmedia, calls Rabinovich "intellectually and technically fluid" and observes that "his recent work serves simultaneously as social critique and social service."
Rabinovich has served as a teaching assistant at SU and looks forward to continuing his work as an educator in San Pedro. "I am looking to the academic world for opportunities to continue my artistic practice while developing the activity I have grown to love over the years: the creative process of teaching at the college level," he explains.
Rabinovich has exhibited work in cities around the world, including Stuttgart, Germany; Toronto, Ontario, Canada; and Prague, Czech Republic, and had work featured in "TONY (The Other New York): 2012" at the Everson Museum in Syracuse. To learn more about him and see examples of his work, visit misharabinovich.com.
Ginsburg-Klaus and Klaus are deeply involved in the art and commerce communities of San Pedro, a growing artists' residency location. In 2010 the couple founded the Ginsburg-Klaus Art in Los Angeles Practicum Week, which allows a group of students in VPA's departments of Art and Transmedia to undertake an intensive investigation of art collections housed in the city's most significant museums, as well as visit galleries and contemporary artist studios to hear from prominent artists, curators and gallery owners, many of whom are accomplished SU alumni.