Campus & Community
Plant a Pinwheel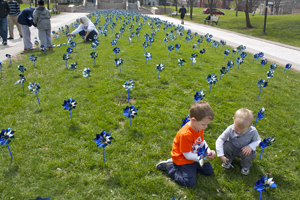 To support the efforts of the McMahon/Ryan Child Advocacy Center, the Falk College Student Leadership Society is planting a pinwheel garden on the SU campus (between Schine and Newhouse). The garden will create a visual reminder about Child Abuse Prevention Month, which is commemorated during April. Pinwheel purchases can be made April 12 from 10 a.m.-4 p.m. at the Schine Student Center for $1, though donations of any amount will be accepted. Sand buckets for donations are also available in offices throughout the Falk College, including its Office of Student Services (340 Sims Hall), where people can support the pinwheel garden at SU (1 of 6 in the community).
Website: falk.syr.edu
Contact: For more information, contact the Falk Office of Student Services at 443-3144. Thank you for your support.