Pettinella to Receive Jonathan J. Holtz Alumnus of the Year Award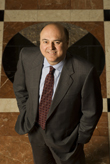 The Whitman School of Management will honor Edward J. Pettinella G'76 (M.B.A.) with the 2013 Jonathan J. Holtz Alumnus of the Year Award at a ceremony to be held at 4 p.m. Wednesday, May 1, in the Marvin and Helaine Lender Auditorium at the Whitman School. A reception will follow in the Flaum Grand Hall.
This honor is presented each year to a distinguished Whitman graduate who has realized professional distinction while remaining actively engaged in efforts to support the school and help it progress.
Pettinella first joined Home Properties in 2001 as executive vice president with oversight of corporate strategy. Three years later, he moved into his current role as president and CEO. Under his leadership, acquisitions have grown by $3 billion, while assets in low-growth markets have been reduced by $700 million.
Prior to joining Home Properties, Pettinella worked at Community Savings Bank in Rochester. Beginning as the company's first investment analysis, he moved up the ranks from vice president for investments to chief operations officer and executive vice president. In 1986, Pettinella helped take the bank public before eventually merging it with Charter One Bank and becoming president of Charter One, New York. He also worked at Ford Motor Credit Corp. in Michigan, creating financial products for institutional investors.
Pettinella recently endowed a professorship in finance/real estate in Whitman's James D. Kuhn Real Estate Center. "Ed is one of Whitman's most dedicated alumni," says Dean Mel Stith. "He has been very generous to our school both financially and in service through mentoring and membership on the Whitman Advisory Council. I feel fortunate to have Ed as an advisor, whose counsel I regularly seek and value."
Pettinella received a B.S. degree from SUNY Geneseo in 1973, where he was president of his class. He earned an M.B.A. degree at Whitman in 1976.
During the ceremony, Deborah Leone '86 (B.S.), G'87 (M.B.A.) will receive the Dean's Citation for Exceptional Service, and Lee Goldberg '06 (B.S.) will be recognized as Whitman's Young Alumnus of the Year.