Pam Peter named Director of the Office of Judicial Affairs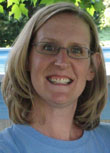 The Division of Student Affairs has announced the appointment of Pam Peter as director of the Office of Judicial Affairs, effective April 1. Peter has been serving as interim director since August 2012, and joined the office in January 2011 as associate director.
"Pam has developed a reputation as a professional who is committed to building respect for diversity and serving as an advocate for students," says Rebecca Reed Kantrowitz, associate vice president for student affairs. "She has proven to be an incredibly passionate, knowledgeable and high-energy team player, who is deeply committed to student conduct as a way to educate students on the consequences of their own actions and to build a stronger, more inclusive community."
Peter has worked at Syracuse University for more than 11 years. During her time as interim director, she provided leadership to a judicial system that educates more than 3,600 students per year through accountability and related sanctioning; resolved high-profile cases with a variety of Code of Student Conduct violations; and developed collaborative relationships with a number of University offices, among other successes. As director, she will focus on reframing the mission, name and perception of the office to reflect a more educational framework; reach out to build trust with underrepresented student populations; and explore the use of restorative justice, conflict resolution and educational sanctions.
"I appreciate that my role in the Office of Judicial Affairs provides a wonderful opportunity to connect with students about their experiences, needs, resources and goals, and to have a positive impact on students' futures," says Peter.
Prior to her time in judicial affairs, she served as an assistant director in the Office of Residence Life, where she was responsible for the oversight of South Campus, a residential community of 2,700 students living in apartments and the Skyhalls.
During her tenure at SU, Peter has been an active member of cross-campus committees and initiatives, serving on the Student Leadership Institute Coordinating Committee, the Martin Luther King, Jr. Dinner Celebration Committee, the anti-Bias Education Team, and on the bid and conference teams for SU's participation as a host site for the 2005 National Association of College and University Residence Hall's annual conference.
In 2005, Peter was the recipient of the Northeast Association of College and University Housing Officers Women's Issues Outstanding Achievement Award. She has presented at a number of national conferences, including ACUHO-I, the National Association of Student Affairs Professionals, and ACPA College Student Educators International.
Peter holds a M.Ed. degree in counselor education from the Pennsylvania State University and a bachelor's degree from the Pennsylvania State University at Erie, the Behrend College. She is working toward a Ph.D. in cultural foundations of education at SU.