Newhouse School to Hold Ed Smith Media Literacy Day April 19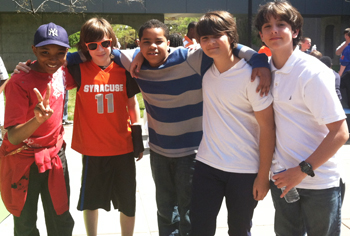 The S.I. Newhouse School of Public Communications will host 85 sixth-grade students from the Syracuse City School District's Ed Smith School this Friday for the seventh annual Media Literacy Day.
Sponsored by the Newhouse Diversity Committee, the event serves to educate primary school students about opportunities in the communications field and to broaden their understanding of how different media are constructed for targeted audiences.
"The Ed Smith Media Literacy Day is one of my favorite things to organize at the Newhouse School," says Tula Goenka, associate professor of television, radio and film. "Starting this year, sixth grade at Ed Smith is no longer part of the elementary school but rather is integrated into the middle school. This has been a tectonic shift for the sixth-grade teaching team, and it's a testament to their hard work that the students have transitioned smoothly into their more grown-up role and the challenges of the Common Core Curriculum. Therefore, I am doubly excited to welcome these 12-year-olds to Newhouse, and to show everyone how curious and knowledgeable they truly are."
"We have been fortunate enough to benefit from this partnership with Newhouse for a number of years," says sixth-grade teacher Richard Rogers. "Every year the students leave this experience having gained some knowledge and awareness of the media and its function in our everyday world as well as how the media impacts our decision making, and how it is formatted to sway opinion. Conversations in the classroom surrounding this event go on well after the day of our visit."
The students will be welcomed at the Newhouse School at 9:30 a.m. and will then attend three workshops that will introduce them to advertising, journalism and television, radio and film conducted by doctoral candidates and adjunct instructors Jennifer Billinson, Laura Osur and Sherri Williams. Newhouse Ambassadors Chantal Felice, Paola Suro and Imani Wallace will also participate in the event.
For more information about Media Literacy Day, contact Goenka 315-443-3376 or tgoenka@syr.edu.