Museum Studies Students Collaborate on New Park Exhibition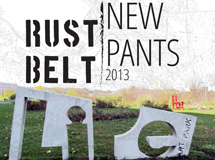 Graduate museum studies students in the College of Visual and Performing Arts (VPA) have collaborated with the Stewards of Lipe Art Park (SLAP) in Syracuse on a new outdoor art exhibition that examines the evolving identity of the city of Syracuse. "Rust Belt: New Pants" will be on view April 15-July at the park, which is located on West Fayette Street between Geddes and Oswego streets. The museum studies students worked with SLAP to curate, design, install and promote the exhibition.
A reception will be held on Thursday, April 18, from 5:30-8:30 p.m. at the park. As part of the reception, Stephen Long's film "Crucible" will be shown at 8 p.m. In case of rain, the event will be held on Thursday, April 25.
Seven Syracuse artists will show their work in "Rust Belt: New Pants," which starts with the city's industrial, manufacturing beginnings and continues on to its present as a post-industrial and cultural hub. While each of these artists approaches the symbolization of the city's evolution differently in their work, they all recognize the effects post-industrial renewal is having on Syracuse's identity. They choose to represent the city's past by utilizing materials and creating structures that are reminiscent of Syracuse's industrial age. The works encompass a variety of media, including mural, sculpture and video.
Lipe Art Park is the city's first art and public green space open to the community for personal recreation and public gatherings. Learn more at lipeartpark.com.