Media, Law & Policy
Maxwell School Announces Samantha Power as Graduate Convocation Speaker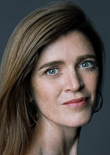 Pulitzer-Prize winning author and foreign policy scholar Samantha Power will deliver the Maxwell School's graduate convocation address on Friday, May 10, at Hendricks Chapel.
The convocation  at 10 a.m. in Hendricks Chapel is open to all members of the Syracuse University community.
Power recently left the White House, where she served on the National Security Council Staff as special assistant to the president and senior director of the Office of Multilateral Affairs and Human Rights. Prior to joining the administration, she was the founding executive director of the Carr Center for Human Rights Policy at Harvard's Kennedy School of Government and Anna Lindh Professor of Practice of Global Leadership and Public Policy.
Power's book, "'A Problem from Hell': America and the Age of Genocide," won the 2003 Pulitzer Prize for general nonfiction, the National Book Critics Circle Award and the Council on Foreign Relations' Arthur Ross Prize. In 2008, she authored "Chasing the Flame: Sergio Vieira de Mello and the Fight to Save the World," a biography of the UN envoy killed by a suicide bomber in Iraq and the basis for the award-winning HBO documentary "Sergio." Power is also the co-editor of "The Unquiet American: Richard Holbrooke in the World" (2011).
Her New Yorker article on the horrors in Darfur, Sudan, won the 2005 National Magazine Award for best reporting. In 2007, she became a foreign policy columnist at Time magazine. From 1993-96 she covered the wars in the former Yugoslavia as a reporter for U.S.News &World Report, Boston Globe and The New Republic.
Esquire magazine named Power one of the 75 most influential people of the 21st century "because her brand of moral pragmatism is helping reshape American foreign policy."
A graduate of Yale University and Harvard Law School, Power moved to the United States from Ireland at the age of nine.
Dean James Steinberg said: "We are privileged to have Samantha Power as our convocation speaker. As a scholar and practitioner, her career exemplifies the values of citizenship and public service that lie at the heart of the Maxwell School's mission."