Leading Figure in Second-Language Writing to Keynote Writing Program Spring Conference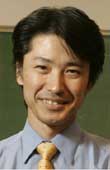 Paul Kei Matsuda, a leading national figure in second-language writing and linguistics, will be the keynote speaker for the annual two-day spring conference of the Writing Program in The College of Arts and Sciences.
Matsuda will speak on "Reimagining Student Writers in the Global U.S.-Higher Education" on Thursday, April 4, at 3:30 p.m. in the Kilian Room, Room 500 of the Hall of Languages. The event is free and open to the public. Parking is available in SU's visitor pay lots.
Matsuda will address two challenges higher education is facing in the era of globalization: to educate U.S. students to become participants in the global society while also transforming U.S. higher education in response to the growing presence of international students.
He will discuss the implications for globalization for U.S. higher education with a focus on the role of writing instruction for an increasingly diverse and global student population.
On Friday, April 5, Matsuda will lead a mini-seminar breakfast from 8-10 a.m. at the Humanities Center, in which participants will discuss three of his articles. He will lead an interdisciplinary workshop based on his 2012 published article, "Let's Face It: Language Issues and the Writing Program Administrator" on Friday from 2-4 p.m.
Matsuda is professor of English and director of second language writing at Arizona State University. He is the author of numerous seminal publications arguing for a multilingual approach to language instruction and is the founding chair of the Symposium on Second Language Writing, the Conference on College Composition and Communications Committee on Second Language Writing and former chair of the Nonnative English Speakers in TESOL Caucus. He recently began a term as second vice president and president-elect of the American Association for Applied Linguistics.
Matsuda's visit is sponsored by the Writing Program, the Department of Languages, Literatures and Linguistics and the Department of Women's and Gender Studies in The College of Arts and Sciences; the School of Education and the Kreischer Lecture Fund; the Department of Communication and Rhetorical Studies in the College of Visual and Performing Arts; the SU Humanities Center; SU Abroad; Phi Beta Delta International Honor Society, Alpha Sigma chapter; and the Slutzker Center for International Services.