Landscape of Urban Education Lecture Presents Revealing Look at Rosa Parks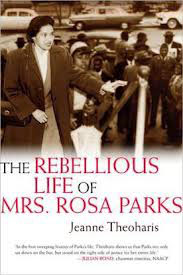 The School of Education's Landscape of Urban Education Lecture Series will present historian Jeanne Theoharis, author of "The Rebellious Life of Mrs. Rosa Parks" (Beacon Press, 2013) on Wednesday, April 3.
The lecture begins at 4 p.m. in the Miron Room in Newhouse 1 and is free and open to the public. Free parking will be available in the Irving Garage. Communication Access Real Time (CART) will be provided.
The lecture is co-sponsored by the SU Humanities Center, the Department of Political Science in the Maxwell School of Citizenship and Public Affairs, and the Department of History, Department of Women's and Gender Studies and the Department of African American Studies in The College of Arts and Sciences.
When Rosa Parks died in October 2005, she was the first woman and second African American to lie in state at the U.S. Capitol. Much of the memorialization, though, reduced her historical contributions to her act of defiance aboard a bus in Montgomery, Ala., on Dec. 1, 1955, that launched the modern Civil Rights Movement.
In this comprehensive biography—the first critical treatment of Parks' life—Theoharis shows that the portrayal of Parks as the quiet, unassuming seamstress who accidentally launched a nationwide movement is far from accurate.
By chronicling Parks' political philosophy and six decades of political work, Theoharis reveals a woman who, in her own words, had "a life history of being rebellious." From her family's support of Marcus Garvey to her work with the National Association for the Advancement of Colored People in Alabama in the 1940s and 1950s to her work in Detroit to challenge Northern racial inequality, Parks' contributions go far beyond a single day.
Theoharis is a professor of political science at Brooklyn College.
Discounted copies of "The Rebellious Life of Mrs. Rosa Parks" will be available for purchase at the event.
For more information on the event, call 315-443-4696 or email SUSchoolofEd@syr.edu.