La Casita Cultural Center to Dedicate New Bilingual Library to Near West Side Community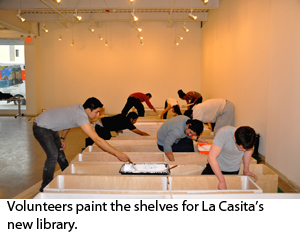 For the past several weeks, the sounds of drills and hammering and the smell of fresh paint have permeated La Casita Cultural Center, 109 Otisco St., as volunteers from Syracuse University and Syracuse's Near West Side community gathered to build a new, bilingual library for the center.
La Casita will dedicate the new library to the community during a celebration that will begin at 5:30 p.m. Friday, April 26. The celebration is free and open to the public. Featured guests will be critically acclaimed Hispanic novelists Helena Maria Viramontes, author of "Their Dogs Came With Them" (Washington Square Press, 2007) and "Under the Feet of Jesus" (Plume, 1995); and Ernesto Quiñonez, author of breakthrough novels about life in Spanish Harlem (El Barrio), "Bodega Dreams" (Vintage, 2000) and "Chango's Fire" (Harper Perennial,2004). The authors will read selections from their work.
The library celebration will coincide with the opening, in the La Casita gallery, of "Transfiguring Art: Contemporary Colombian Abstract Painting," an exhibition of oil and acrylic pieces on canvas by three contemporary Colombian artists. The artists include Esperanza Tielbaard Pazmiño, who resides in Baldwinsville.
"We are thrilled to dedicate this new bilingual library to the community," says Teresita Paniagua, SU's executive director of cultural engagement for the Hispanic community. "We hope the library will become an interactive, community-driven space in which local residents, students and scholars can discover the richness and diversity of Latino and Latin American literatures and cultures."
The College of Arts and Sciences and the Office of the Chancellor have provided primary funding for the library project. In addition, the Literacy Coalition of Onondaga County has partnered with La Casita to purchase books. "Our mission is to increase literacy across the lifespan in our community," says Virginia Carmody, executive director. "Family literacy is important to us. Being able to partner with La Casita is a great opportunity for us to enhance what we are doing."
In addition to books, the library will house a multimedia, cultural memory archive that will document the cultural history of the local Hispanic community. The archive will include audiovisual materials, print documentation, images and an oral history project.
Katherine White, a graduate student in the Cultural Heritage Preservation Certificate Program in the School of Information Studies, is helping La Casita obtain and organize the library materials. For White, the project was a perfect fit. She was looking for library experience and La Casita needed a librarian. She worked with La Casita staff to develop a "wish list" of bilingual materials for children and adults for the collection.
"I've been doing lots of research on Hispanic literature," White says. "As a result, my personal book list keeps getting longer." The library has taken shape under the watchful eyes of the children who attend after-school programs at La Casita. "Their enthusiasm," White says,"is contagious. They keep asking: 'When are we getting the Dr. Seuss books?' "
Approximately 500 books have been secured to date; La Casita hopes to expand the number of holdings to more than 1,000. Community members are encouraged to participate by donating new books to the collection. A list of desired books is available online.
Building the library
The library space and custom shelving was designed and built by student volunteers who are members of the Society of Multicultural Architects and Designers in the School of Architecture. Planning for the project began almost a year ago and involved drawing concepts, purchasing materials and building and installing the custom shelving.
"The project gave us real-life experience in working with a client, working as a professional team and actually building what we designed," says Ashley Marshall, a fifth-year architecture student. "We don't get that kind of experience in class."
The students found the project fun but challenging. "The challenge was to design adjustable shelving to fit a cone-shaped space and make it functional so that people can reach the materials," says Daniela de la Garza Evia, a fourth-year architecture student. After much planning, teamwork, advice from their faculty advisor Ryan Ludwig and woodshop manager John Bryant, a shopping trip to Home Depot, and measuring, cutting, sanding and painting, the vision became a reality.
"It was a proud moment when we actually saw the shelving modules on the wall at La Casita," says Jose Arango, a fifth-year architecture student. "The project took longer than we thought it would, but now that it is built, we are proud of leaving this legacy behind for the community to enjoy."
About the guest authors
Viramontes is the author of "Their Dogs Came with Them," a novel, and two previous works of fiction, "The Moths and Other Stories" and "Under the Feet of Jesus." Named a USA Ford Fellow in 2007 by United States Artists, she is also the recipient of the John Dos Passos Prize for Literature, a Sundance Institute Fellowship, a National Endowment for the Arts Fellowship, and the Luis Leal Award. Viramontes holds an M.F.A. in creative writing from the University of California, Irvine. She is professor of creative writing in the Department of English at Cornell University, where she is at work on a new novel.
Quiñonez's first novel "Bodega Dreams," has become a landmark in contemporary literature. It is required reading in many high schools and colleges around the country.  The New York Times heralded the book a "new immigrant classic," and the book made the Los Angeles Times Best Fiction list. In a review for Time magazine, Desa Philadelphia wrote: "Quiñonez knows this 'hood—readers may have to remind themselves that this is a work of fiction and not a memoir. His prose, detailed and passionate, brings the tale to life." His critically acclaimed second book, "Chango's Fire" received a 2005 Latino Book Award. Quiñonez holds a master's in creative writing from the City College of New York.