Ke$ha Will Headline Block Party 2013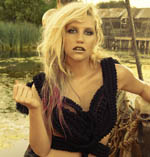 Pop star Ke$ha will headline University Union's annual Block Party concert on April 26 in the Carrier Dome. Doors will open at 6:30 p.m. Opening acts will be announced at a later date.
American singer/songwriter Ke$ha, 26, has been working as a musician and writing songs for most of her life. Ke$ha signed to Dr. Luke's record label and publishing company at the age of 18. Her breakthrough followed in 2009 after being featured on Flo Rida's number one single "Right Round."
Ke$ha's first album, "Animal," released in January 2010, debuted at number one on the Billboard 200. "Animal" features four gold and platinum singles, including the multi-platinum "Tik Tok," which reached number one in 11 countries and sold more than 6 million copies. Her subsequent EP "Cannibal," released in November 2010, continued her string of top 10 singles, with "We R Who We R" and "Blow."
Ke$ha's second studio album, "Warrior," released in December 2012, peaked at number six and includes the hit single "Die Young." The album features contributions from will.i.am, The Strokes, The Flaming Lips, Nate Ruess of fun. and Patrick Carney of The Black Keys. "Warrior," with elements of dance, eletropop and rock, showcases Ke$ha's vocal abilities and solidifies her as a savvy career artist.
Since her debut, Ke$ha has been nominated for more than 40 awards and has won more than 15, including three BMI Pop Awards last year for self-penned singles "We R Who We R," "Blow" and "Til The World Ends."
There will be an online-only student pre-sale beginning Tuesday, April 2, at 10 a.m. Full-time SU and SUNY-ESF students may purchase up to four tickets.
Ticket sales will open to the general public for $40, starting Friday, April 5, at 10 a.m. at the Carrier Dome and online. A limited number of student tickets will be available at the Schine Box Office starting Friday, April 5, at noon  Additional convenience fees may apply for all tickets.
For more information and general questions, please contact Sarah Fleisher, director of public relations for University Union, at press.uu@gmail.com. For the latest updates on all University Union events, follow its social media accounts on Twitter, www.twitter.com/uuinsider, and Facebook, www.facebook.com/universityunion.