It's All in Your Mind
Mindfulness-Based Stress Reduction Program Set to Begin for Faculty and Staff

Take a few minutes of peace and quiet. Settle your thoughts. And breathe.
These thoughtful measures of mindfulness-based stress reduction (MBSR) can reduce the tensions of everyday life, increase your energy, help you cope with chronic physical conditions and improve your overall health and well-being.
"Mindfulness-based stress reduction is about getting in tune with the patterns of your thinking and understanding how your mind works," says Dessa Bergen-Cico, assistant professor of public health and lead faculty of addiction studies in the Falk College of Sport and Human Dynamics. "We spend most of our time thinking about things we're supposed to do, or things that have happened in the past. We spend little time actually engaged in the present moment. This program cultivates that skill, and there is substantial research on the physical and psychological health benefits of mindfulness."
Through the University Wellness Initiative, faculty and staff can learn the techniques of MBSR and its positive benefits to reduce stress, fatigue, anxiety and insomnia while helping to improve immunity, focus and satisfaction in work and personal relationships.
The eight-week program, which takes place every Wednesday, begins May 15. Attendance is required at one orientation session on May 1 or May 8 to become eligible for the program. Faculty and staff can visit wellness.syr.edu for more information and to register. The University Wellness Initiative web portal—reflecting the theme of "Embody: Your well-being. Your way."—also provides information on future wellness programs, including a fall program on mindful eating.
"We know that stress plays a significant role in the well-being of faculty and staff," says Susan Furtney, who is leading the University Wellness Initiative, established in 2012 to create and support a healthier campus community. "And we are offering a series of programs to the University community to help reduce stress and improve health."
For SU undergraduate and graduate students, an eight-week mindfulness-based stress reduction program is available through the Counseling Center within the Division of Student Affairs. Visit the Counseling Center website for upcoming dates during the fall 2013 semester. There are also several academic courses that integrate mindfulness practices, including HTW 405/HTW 605, "Cognitive Behavioral Stress Reduction" and CRS 360, "Mindful Communication."
Guided Relaxation
In the MBSR program, a facilitator guides participants in relaxation and meditation techniques, including gentle yoga and stretching exercises, and sitting and walking meditations. The facilitator leads participants through the "body scan," which helps ground the mindfulness practice in the physical body, developing the mind-body connection. A central element of MBSR is also awareness of the breath and controlling one's breathing, Bergen-Cico says.
The original research and development of MBSR focused on helping people who suffered a heart attack or from severe stress-related illnesses and chronic pain, says Bergen-Cico '86, G'88, G'92.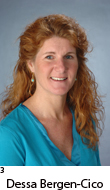 "Lifestyle as well as chronic stress—which bathes the body in stress hormones—can contribute to cardiovascular disease, obesity, high blood pressure, anxiety and related conditions. Through the process of learning to be aware of your thoughts and feelings, you can restructure how you respond to and anticipate stress," Bergen-Cico says. "You can change and interrupt this chronic cycle of adrenaline, cortisol and other stress-related hormones that affect the body."
Proven Results
Bergen-Cico, who holds a research appointment at the Syracuse Veterans Affairs Medical Center (VAMC), is wrapping up a two-year study with the Syracuse VA and Crouse Hospital working with veterans with post-traumatic stress disorder (PTSD). The veterans underwent a four-week MBSR program to help them focus on the mind-body connection and relieve both physical pain and emotional stress.
"Those who made a lot of progress were the Vietnam veterans who had suffered for decades with PTSD," Bergen-Cico says. "They were able to cultivate skills to do simple things like go grocery shopping, visiting places that would normally make them anxious and uncomfortable around people."
Bergen-Cico, who has also directed the former University Rape: Advocacy, Prevention and Education Center, and the office of Substance Abuse Prevention and Health Enhancement, has also seen results in those suffering from trauma and addictions.
As part of the upcoming faculty and staff MBSR sessions, Bergen-Cico will be conducting pre- and post-assessments using research tools to see what participants may be experiencing before and at the end of the program. "I've found statistically significant improvement among other populations, so we are hoping to see similar results and get a larger sense of how this helps in terms of the health and wellness of our employees," she says.
For those looking to begin exploring mindfulness-based stress reduction, there are online self-tutorials that go through the basic elements, says Bergen-Cico, who practices mindfulness through her own version of moving meditation—running on a daily basis—and through yoga. "It can be as simple as setting aside five minutes and quieting your mind," she says.