Invincible, Hip-Hop Artist and Social Activist, Performs April 23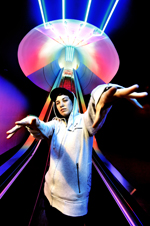 Hip-hop artist and social activist Invincible will perform on Tuesday, April 23, in Hendricks Chapel.
Members of Nhu Rho Poetic Society and Verbal Blend will open the show at 7 p.m., and Invincible will take the stage at 7:30 p.m.
The event is free and open to the public. Parking is available in the Irving Garage for $5 on the evening of the performance. Disabled parking must be arranged in advance through Carol Fadda Conrey at 395-1693.
The event is co-sponsored by The College of Arts and Sciences, LGBT Resource Center, LGBT Studies, Department of Women's and Gender Studies, Middle East Studies Program, SU Arts Engage, Department of English, Cultural Foundations of Education, Office of Multicultural Affairs and Imagining America.
Invincible's spitfire wordplay has received acclaim from fans all across the world, while their active involvement in progressive social change has taken their music beyond entertainment toward actualizing the change they wish to see.
As a co-founder of Emergence Media, they released their debut album "Shape Shifters" (2008) and produced such award-winning videos as "The Revival" (2009) about women in hip-hop and "Locusts" (2008), exploring displacement and gentrification in their hometown of Detroit. A sampling of music can be seen at emergencemedia.org/epkv2.
Invincible has performed on stages and in clubs, community centers, campuses, pride celebrations and festivals around the world for over a decade, both as a solo artist and featured as part of the anti-misogyny hip-hop collective Anomolies. They teamed up with longtime music producer and filmmaker Waajeed in 2010 to release a limited-edition single "Detroit Summer/Emergence."
Invincible is a fellow of Kresge Arts in Detroit, and the Ellen Stone Belic Institute for Women and Gender in the Arts and Media. In addition to their work as a performing artist, for the last decade Invincible has worked with Detroit Summer, a multiracial, intergenerational collective in Detroit that is transforming communities through youth facilitative leadership, creativity and collective action. Invincible is also the co-coordinator and co-founder of the Detroit Future Youth network to support social justice and media-based youth projects throughout the city.
Invincible is currently working with Waajeed and visual artist Wesley Taylor on Complex Movements, an interactive multimedia installation-based hip-hop collective exploring the relationship between complex sciences and social justice movements.