Have No Idea Where to Go with Your Idea? Come to Emerging Talk!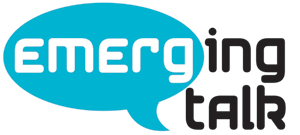 It takes an entrepreneurial ecosystem to help college students turn an idea into a venture.  And plenty of students are taking on the challenge of executing their ideas.
Where do you find these students?  How do these students meet others who routinely disrupt the status quo?  And how does a college student get funding to get a nonprofit or for-profit venture off the ground?
It's all at Emerging Talk on April 12 and 13.  Emerging Talk is an entrepreneurship expo created by students for students to share successes, failures, network with investors and other students, find potential co-founders and teammates, win cash prizes or just check out the entrepreneurial scene in Central New York.
Each year, Emerging Talk has drawn more than 250 attendees, half of whom are students with ideas or ventures.  This year's event will be even bigger, with students attendingnot only from Syracuse University, but SUNY-ESF, Le Moyne College, SUNY Cortland, and Colgate University, to name just a few.
And it gets even better.  The RvD IDEA Awards, Panasci Business Plan Competition, L.C. Smith Invention and Creativity Competition, New York State Business Plan Competition Regionals, and Fab Fest have all teamed up to be part of Emerging Talk this year—two days devoted to helping students connect with people to help move their ideas forward, meet other passionate and driven people  and win seed funding to take their ventures to the next level.
"Emerging Talk has become the annual event that student entrepreneurs talk about and look forward to," says Mike Smith, Kauffman Entrepreneurship Engagement Fellow and this year's Emerging Talk organizer. "Connections are made at Emerging Talk that lead to new ideas and partnerships. And this year we've made the event even more interdisciplinary so that students all across campus feel welcome."
Friday, April 12, is all about hearing from both new and seasoned entrepreneurs. You'll hear lessons learned, and the good, bad and the ugly about starting a business.  Presesnters will also tell you what to do if you have an idea, but have no idea what to do with it. There will be plenty of time to network and a chance to win $500 at the 60-second pitch competition.
Saturday, April 13, is when students compete in the RvD IDEA Awards, the finals for the Panasci Business Plan Competition and the Invention and Creativity Competition. If you're not in any of these competitions, don't worry. If you have a venture or idea you've been working on, whether it's nonprofit or for-profit, request a table and demo at Demo Alley. This is a great opportunity to network, find potential clients/customers and attract talent to your team. The more you showcase what you're working on, the more connections you'll make to move you forward. There will also be two $500 awards at Demo Alley for best display and crowd favorite.
The first ever Fab Fest is also at Emerging Talk on Saturday. There are a lot of creative students out there who have product. Register for Emerging Talk, request a table and show what you've created. This is the best way to find students with business skills to complement your creativity and start a venture.
Emerging Talk will be held in the atrium of the Whitman School of Management this year. The event is free and open to the public. Anyone with an idea for a nonprofit or for-profit business, a current business, an interest in the entrepreneurial ecosystem in Central NY, or who is a resource to businesses should come.  Attendees can register at emergingtalk.syr.edu/.
For more information or to register to attend Emerging Talk, visit emergingtalk.syr.edu/.