Goon Squad Student Sign-Up Open for Syracuse Welcome 2013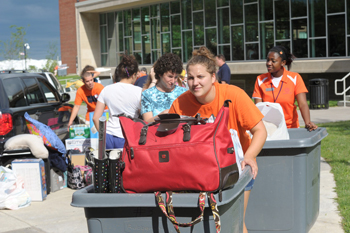 Syracuse Welcome 2013 will mark the 69th year for the Goon Squad, SU's official new-student welcome team. Since 1944, returning students have volunteered to greet incoming first-year students. Today, Goon Squad members are best known as the volunteer team that helps move new students into their residence halls.
"The Goon Squad is such an important part of our University tradition," says Carrie Grogan Abbott G'03, director of the Office of First-Year and Transfer Programs, who has helped coordinate the Goon Squad since 2004. "New students arrive on campus and are greeted by a sea of orange. It's such a great way to welcome people into the Syracuse family."
Goon Squad sign-up is available online at newtosu.syr.edu/volunteers. Students who volunteer can move into their residence halls on Tuesday, Aug. 20, which is four days before other returning students.
A sophomore in the Whitman School of Management, Joe Hanko signed up for the Goon Squad to help new students, but then realized it was a great leadership opportunity. "I remembered those hard-working students who helped me move in and I wanted to pay it forward to new students," says Hanko. "These experiences even prepared me for other leadership positions on campus. I loved orientation so much that I applied to become an Orientation Leader."
Rockette Pirro Brunetti '70 has been volunteering with Goon Squad since she was a student. "The Goon Squad faces were the first I saw as a nervous freshman moving into Haven Hall," says Pirro Brunetti. "Those smiles and welcomes made all the difference in making my smooth transition to college! Now, as an alum volunteering Move-In Day, I have the opportunity to give back."
Goon Squad sign-ups will continue into the summer, but students should sign up early for best selection of shift times and locations. Sign-ups for staff volunteers will begin in May.
For more information, contact the Office of First-Year and Transfer Programs, at 315-443-1012 or newtosu@syr.edu