Arts & Culture
'Good People' a Funny, Compelling Play for Our Times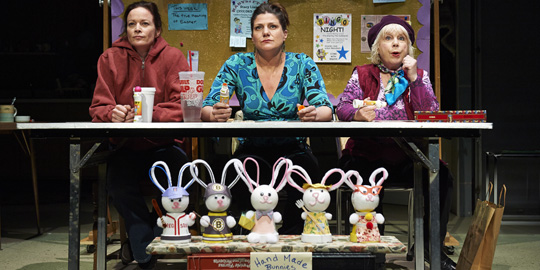 In this 2011 Tony-nominated play set in Boston, Margie is a single mom who just lost her job, is behind on her rent and like many today, has zero prospects. With nowhere to turn, she seeks out an old friend Mike, the one who got away—from the neighborhood of Southie and from her. What can she expect from Mike after 30 years? The journey from the old neighborhood to the upscale Chestnut Hill is fraught with twists and surprises and measured in much more than miles.
"Good People" will perform April 24-May 12 in the Archbold Theatre at Syracuse Stage. Tickets are available in person at the Syracuse Stage Box Office, by phone at 315-443-3275 and online at www.SyracuseStage.org.
Before writing "Good People," David Lindsay-Abaire received a Pulitzer Prize for "Rabbit Hole," which was later adapted into an Oscar-nominated film starring Nicole Kidman. In addition, he wrote book and lyrics for "Shrek the Musical"; he wrote for the recent animated movie "Rise of the Guardians"; and he co-wrote the screenplay for "Oz the Great and Powerful."
The original stage presentation of "Good People" premiered at the Manhattan Theatre Club in New York City. After opening on Broadway in 2011, "Good People" won the New York Drama Critics' Circle Award for Best Play and was nominated for a Tony Award for Best Play. Film and stage actress Frances McDormand won a Tony Award for her portrayal of Margie Walsh, and in 2012 David Lindsay-Abaire won the first ever Horton Foote Award for playwriting for "Good People."
This theatrical season, "Good People" is the most-produced play in America, appearing in 17 different cities.
In a recent interview with NPR's "Morning Edition," Boston-born-and-bred writer David Lindsay-Abaire discussed how his childhood informed the characters and humor in "Good People." As a kid growing up in Southie, he was, "from a relatively young age, incredibly aware of class differences and how difficult it can be to escape the class that you grew up in."
But "Good People" does not pass judgment. In another interview, Lindsay-Abaire notes that all of the characters are basically happy. "They start off the play thinking of themselves as good people, and then in the course of the play, they have to reassess who they are and what they've done and that concept of being a good person is a very malleable one, and it changes. Nobody in the play is a good person; nobody is a bad person. They're just complicated people like we all are, I hope."
Reviews from Syracuse Stage's co-producer, the Cleveland Play House, have been strong. "From start to finish, from comedy to conflict and back again, 'Good People' is great theatre," said The News Herald. The Plain Dealer wrote: "Part of "Good People's" brilliance is that while the story is deceptively simple … the psychological and emotional stakes are almost unbearably high. This is something director Laura Kepley and her actors understand."
The Syracuse Stage production of "Good People" will feature a cast of six: Tony-nominated Denny Dillon (as Dottie), who is an alumna of Syracuse University and 1980-81 cast member of "Saturday Night Live"; Patrick Halley (as Stevie) who recently appeared in "The Taming of the Shrew" with Denver Center Theatre Company; Kate Hodge (as Margie) whose extensive television and film credits include "The Following," "Person of Interest," "Blue Bloods," "Boston Legal" and "The George Wendt Show"; David Andrew Macdonald (as Mike) who appeared on Broadway in "Mamma Mia!," "Coram Boy" and "Two Shakespearean Actors"; Zoey Martinson (as Kate) who appeared in "All's Well That Ends Well" and "365 Days/365 Plays" at The Public Theatre; and Elizabeth Rich (as Jean) who most recently appeared Off-Broadway in the world premiere of "Rx" by Kate Fodor.
Directing the production is Laura Kepley, who serves as associate artistic director at Cleveland Play House, where she has directed productions of "Good People"; "A Carol for Cleveland" (world premiere); "In the Next Room," or the vibrator play; and "My Name is Asher Lev." She has worked with playwrights on the development of their work at The Public Theater (New York City), The Playwright's Center (Minnesota), PlayPenn (Pennsylvania), Naked Angels (New York City), The New Harmony Project (Indiana) and WordBRIDGE Playwrights' Lab (South Carolina). Kepley is a Drama League Fellow and a recipient of the 2009-2011 National Endowment for the Arts/Theatre Communications Group Career Development Program for Directors.
The presenting sponsor is the Dorothy and Marshall M. Reisman Foundation. Media sponsors are Clear Channel Media and Entertainment, Urban CNY and WAER. Syracuse Stage season sponsors are The Post-Standard and Time Warner Cable. "Good People" is a co-production with the Cleveland Play House.