Getting to Know: Ronald J. Taylor '15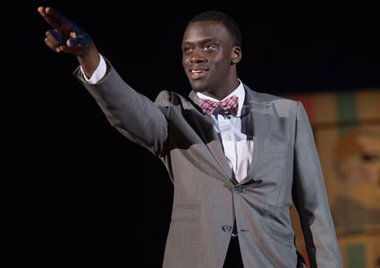 Ronald J. Taylor '15 took to the stage at this year's Martin Luther King Jr. Celebration in the Carrier Dome and issued a challenge to students in a searing monologue based on King's "Mountaintop" speech.
Taylor encouraged students to find their passion and make their footprint while at SU. "Your degree is maybe 60 percent of your time here. The other 40 you have to make up on your own," Taylor says.
One of several performances at the January event, Taylor's monologue referenced King's words from his last speech in 1968 in which the civil rights activist evoked images of reaching the highest peak and seeing the Promised Land.
"My goal was to take this famous speech and make it current—and make it stick with the people in the room," says Taylor, of Hempstead, N.Y. "His speech challenges complacency. He told us to get to this mountaintop, but we're sitting in a valley right now."
Grounded in family
Taylor, a Coronat Scholar, has been creating spoken-word verse and using his words to inspire since before he came to SU. The words were first sparked from the pain after his grandfather's death in 2009; it was a way to express the emotions he felt for both of his grandparents, who inspired and grounded him with their caring and guidance as he was growing up.
"When I write, I'm in a space that I feel it's just me and my grandparents. It's really a sacred space," Taylor says. "When I perform I might have a whole 10-minute piece prepared. Then out of nowhere I'll get a new idea or I'll look out into the audience and see someone's face and it will inspire me to add a stanza. The nature of it is so fluid."
As a first-year student, Taylor had attended the MLK celebration and knew he had to audition for the 2013 event. He has also performed at the Open Mic for Hope and Remembrance, hosted by Verbal Blend and the Remembrance Scholars.
"It's been a way to keep me grounded here at Syracuse," Taylor says. "It lets me escape. Because when I'm up there doing performances, I'm not Ronald—I don't know who I am half that time. It just happens."
A caring philosophy
Along with his words, Taylor speaks through his actions. He brought with him to SU a program to assist disadvantaged youngsters that he started with friends in his hometown. The Cultural Project Rejuvenation Mentorship program at Wilson Park Community Center in Syracuse brings children, ages 9-11, together for activities that support the C.A.R.E.S. philosophy—cooperation, assertion, responsibility, empathy and self-control—which he learned from a summer camp.
Taylor wants students to live out those principles and develop themselves as leaders who are empathetic and can take responsibility.
"It's essentially focused on rebuilding and redefining the images of youth, particularly minority youth," Taylor says. "Although they may see a negative connotation or negative media portrayal, they don't have to fit in that subset, because they know they have the power to define themselves."
Taylor also wanted to bring greater understanding among the various diverse groups on campus. Although he came to campus knowing from his uncle who is an alumnus that there was a diverse community and that Chancellor Nancy Cantor was implementing important diversity initiatives, Taylor noticed some divisions and a lack of understanding among different races.
With support from campus administrators, Taylor organized the "Healing the Scars" event in February to address campus self-segregation and misperceptions, and start a conversation. After the event that drew hundreds, the response has been overwhelmingly positive, and Taylor has been meeting with students and administrators to move forward.
"It's really about student activism. If you want to see changes on your campus, you have to make the first step yourself," Taylor says.
National honors
In recognition of his work on campus, Taylor was named a Newman Civic Fellow for 2013 after being nominated by Chancellor Cantor. Offered by the Campus Compact, a national coalition of college and university presidents, the award honors inspiring college student leaders who have pursued solutions for challenges facing communities. Taylor has also held leadership roles in the Multicultural Empowerment Network and the Black Celestial Choral Ensemble, and as an orientation leader.
Taylor was also named to the Institute for Responsible Citizenship's Class of 2014. The institute, which helps prepare high-achieving African American men for successful professional careers, selects candidates to participate in its intensive summer program in Washington, D.C.
Taylor has been preparing for his professional life in public policy since taking Prof. William Coplin's introductory course and changing his major from biochemistry. After graduation, Taylor, who is also majoring in political science and became a teaching assistant for Coplin's public policy course, sees himself working in educational policy, but he has plans to return to his community.
"My future is going to be as the mayor of my hometown," Taylor says. "I want to take what I've been blessed to learn and bring that to the community. How I'm going to do that, only time will tell."