Five Candidates to Receive Honorary Degrees at 159th Commencement Exercises
A cable television executive and philanthropist; the first woman to be named chief judge of New York's Court of Appeals; a Pulitzer Prize-winning columnist; an environmental justice advocate; and an urban schools reformer will each be presented with an honorary degree from Syracuse University for the differences they have made in the lives of others and in the world.
The five 2013 honorary degree candidates are: Alan Gerry, Judith S. Kaye, Commencement speaker Nicholas Kristof, Wangarai Muta Maathai (posthumously), and Charles Payne '70.
The degrees will be presented on Sunday, May 12, at SU's 159th Commencement exercises. The ceremony at the Carrier Dome will also celebrate graduates from the SUNY College of Environmental Science and Forestry. For full details, visit commencement.syr.edu.
Alan Gerry
Doctor of Humane Letters
Alan Gerry never went to college, but he is someone from whom college students can learn lessons of character.
When Gerry graduated from high school, he went directly into the U.S. Marine Corps. He later used the G.I. Bill to complete a course in television repair, then opened a TV sales, installation and repair shop in his hometown of Liberty, N.Y. Good customer service insured that he did well, but his enterprising spirit drove him to do more.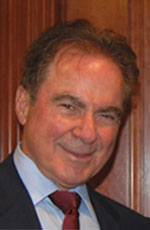 Sullivan County, where Liberty is located, is in the Catskill Mountains. The mountainous terrain and remoteness from broadcast towers made for poor television reception. Gerry set out to remedy this by installing antennas at high points around the county. This was the beginning of Cablevision Industries Corp. (CVI), which grew to become the largest privately owned cable company in the United States and the eighth-largest cable company overall. In 1996, CVI merged with Time Warner. That same month, he founded Granite Associates LP, a private investment company.
A successful business man, Gerry was eager to stimulate economic activity and promote the revitalization of Sullivan County. With this in mind, he created the Gerry Foundation.
One of the foundation's first achievements was to purchase the land on which the Woodstock Festival was held in 1969 to build an arts and entertainment complex and museum. The Bethel Woods Arts Center opened in 2006 to rave reviews, and has hosted such luminaries as Elton John, Bob Dylan, the Grateful Dead and the New York Philharmonic.
In addition, Gerry has supported schools, college and medical institutions in the region and beyond. He provided crucial support for the Catskill Regional Medical Center when it was at the brink of bankruptcy. He established the Paul Gerry Dialysis Center at the Robert Packer Hospital in Sayre, Pa., in honor of his late brother; created the Alan Gerry Chair of Orthopedic Surgery at Harvard Medical School; and established the Alan Gerry Endowed Scholar Program at Massachusetts General Hospital and the Alan and Sandra Gerry Metastasis Research Initiative at Memorial Sloan-Kettering Cancer Center.
In 2011, Gerry established the Gerry Scholarship Endowment Fund to provide SU tuition support to Sullivan County students. He also established the Gerry Foundation Scholars Endowed Fund at the SU College of Law in 2001. He has also served on SU's Board of Trustees and its Institutional Advancement Committee.
Gerry is the father of an SU College of Law graduate and grandfather of two others who have completed studies or are currently studying at SU.
Judith S. Kaye
Doctor of Laws
Judith S. Kaye was the first woman to be named chief judge of New York's Court of Appeals, a position she held from 1993-2008. Her 15-year tenure was longer than any other chief judge in New York State's history.
During her time as chief judge, Kaye reformed the courts and added specialized courts in a number of areas, such as domestic violence and mental health. Her innovations led other states to adopt similar reforms. Kaye was instrumental in establishing drug courts, which now exist throughout New York State and work to link defendants with treatment providers and monitor their health and criminal conduct, an approach that has been found to reduce both recidivism and addiction.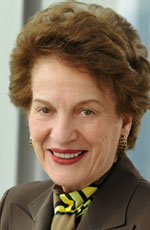 Kaye was also crucial in getting the state courts to change how they deal with partner violence cases. Most counties now have separate integrated domestic violence courts, in which one judge may hear all matters that involve one family. This model closes gaps in the system and improves victim safety. She devoted time and resources to training judges to better understand the problem and how to deal with it.
Judge Kaye is chair of the Permanent Judicial Commission on Justice for Children. She created the Adoption Now program, which produced more effective procedures for children in foster care and their families. For this, she received the United States Department of Health and Human Services' Adoption Excellence Award.
Kaye graduated from New York University Law School in 1962, going into private practice at Sullivan & Cromwell. She became the first woman to make partner in the firm of Olwine, Connelly, Chase, O'Donnell and Weyher.
Kaye has authored more than 200 articles on subjects ranging from legal process and state constitutional law to juvenile justice and problem-solving courts. She retired from the bench in 2008, but continues as an active attorney. She is now of counsel to the firm of Skadden, Arps, Slate, Meagher and Flom & Affiliates.
Among the awards she has received are the John Marshall Award from the American Association, the National Center for State Courts' William H. Rehnquist Award for Judicial Excellence and the Margaret Brent Women Lawyers of Achievement Award from the American Bar Association's Commission on Women in the Profession.
Nicholas Kristof
Doctor of Humane Letters
Nicholas Kristof, noted New York Times columnist and two-time recipient of the Pulitzer Prize, is Syracuse University's 2013 Commencement keynote speaker.
Through his journalism, Kristof has become a leading advocate for human rights, social justice and the eradication of poverty. His work has taken him to more than 140 countries, all 50 U.S. states and every province in China. He is one of few Americans who have visited the countries of Iran, Iraq and North Korea twice. Through his columns he has brought global health, poverty and gender issues in the developing world into the consciousness of his readers. He brought the genocide in Darfur, Sudan, to the world's attention and was awarded the Pulitzer Prize for this reporting in 2006. Overall, he has been a finalist for the Pulitzer Prize seven times.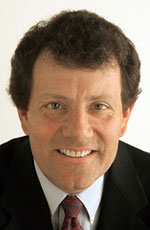 Kristof urges young people, especially college students, to meet people at their own level and to push outside their comfort zones. As a measure of his determination that the next generation is engaged in global issues, Kristof takes the college student-winners of an annual New York Times essay contest with him as he reports from another area of the globe.
He and his wife, former New York Times journalist Sheryl WuDunn, authored "Half the Sky," Turning Oppression into Opportunity for Women Worldwide" (Knopf Doubleday) in 2010. The book addresses the mistreatment of and violence against women and girls across the globe and names gender inequality as "the human rights issue of the 21st century." The book was a New York Times bestseller and has inspired a global movement to empower women. In 2012, PBS broadcast a four-hour series and the Skirball Cultural Center in Los Angeles hosted an exhibition, both inspired by the book.
Kristof and WuDunn were the first husband-and-wife team to win a Pulitzer Prize in 1990 for their coverage of the pro-democracy movement in Tiananmen Square in Beijing. They are the co-authors of "China Wakes: The Struggle for the Soul of a Rising Power" (Knopf Doubleday, 1995) and "Thunder from the East: Portrait of a Rising Asia" (Knopf Doubleday, 2001).
Kristof is a Phi Beta Kappa graduate of Harvard University and a Rhodes Scholar. He joined the New York Times in 1984 and served as a correspondent in Los Angeles, Hong Kong, Beijing and Tokyo. He covered the 2000 presidential campaign and Gov. George W. Bush. He was later associate managing editor of the Times.
Kristof was named as one of seven "Top American Leaders" by Harvard University's Kennedy School of Government in 2011. He and WuDunn received the Dayton Literary Peace Prize's Lifetime Achievement Award in 2009.
He has shared his experiences with the SU community twice in recent years. He was a guest of the University Lectures series in the fall 2010 semester, and was part of a panel of scholars discussing genocide at a symposium honoring the inauguration of Chancellor Nancy Cantor during the fall 2004 semester.
Wangari Muta Maathai
Doctor of Science
Maathai passed away on Sept. 25, 2011, and is receiving the honorary degree posthumously. Her degree will be accepted at Commencement by her daughter, Wanjira Mathai.
Wangari Maathai—distinguished scientist, world renowned environmental justice advocate and global citizen—was a trailblazer, a woman of firsts. She was also, in the words of SU African American Studies Professor Mĩcere Gĩthae Mũgo, a woman of courage who worked tirelessly to free herself and her country from neocolonial oppression, repression, corruption, patriarchal domination, human rights violations, state authoritarianism, economic exploitation of the poor, environmental degradation and other ills.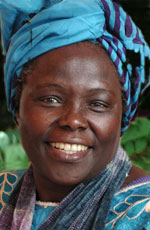 As a young woman in her native Kenya, Maathai was one of the first beneficiaries of the "Airlift to America," which brought nearly 800 young East African men and women to U.S. universities between the years of 1959-63. She used this opportunity to earn a bachelor's degree in biology in 1964 from Mount St. Scholastica College (now Benedictine College) and a master's degree in biological sciences from the University of Pittsburgh (1966).
Maathai started her doctoral studies in Germany. She returned to Africa and earned a Ph.D. in anatomy from the University of Nairobi in 1971, the first woman in East Africa to receive a doctorate. She was the first woman in Central and Eastern Africa to be appointed chair of the Department of Veterinary Anatomy at Nairobi University.
In 1977, Maathai founded the Green Belt Movement, to organize communities in tree planting. The movement soon spread across the African continent and played a major role in reversing the desertification process. Through the movement, Maathai inspired Kenyan citizens—particularly women—to join the broader movement for democratic change.
Matthai served as an elected member of the Kenyan Parliament and assistant minister for the environment from 2003-05, during which time she continued her work with the Green Belt Movement (which by this time was internationally known). She addressed the United Nations on several occasions and spoken on behalf of women at special sessions of the General Assembly. She served on the Commission on Global Governance and the Commission on the Future and was a board member of at least 20 prestigious organizations and institutions. She was a U.N. Goodwill Ambassador to the Congo Basin Forest Ecosystem and a U.N. Messenger of Peace. She held awards and honorary degrees from numerous prestigious organizations and academic institutions.
Maathai was a guest of the University Lectures series during the fall 2006 semester. Her memoir, "Unbowed" (Knopf Doubleday), was published in 2007.
Charles Payne '70
Doctor of Letters
As an undergraduate in Syracuse University's new African American Studies (AAS) program, Charles Payne participated in the Croton-on-Campus program, one of the University's first initiatives on school reform. He was mentored by John Johnson, a founding faculty member and the first director of the AAS program, and renowned sociology professor Charles Willie. It was his experiences at SU that set him on a path to a career distinguished by major contributions to social science, education and the understandings of social movements.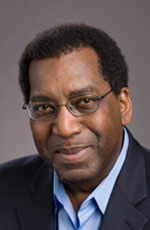 Payne is a renowned scholar, educator, activist, author and social scientist who has dedicated his life's work to urban education. He is the Frank P. Hixon Distinguished Service Professor in the School of Social Service Administration at the University of Chicago and a faculty affiliate in the Urban Education Institute and the Center for the Study of Race, Politics and Culture. He has also been a member of the steering committee of the Consortium on Chicago School Research.
As a sociologist, Payne has written about race, the education of African American students and the Civil Rights Movement. His award-winning 1995 book, "I've Got the Light of Freedom: The Organizing Tradition in the Mississippi Civil Rights Movement" (University of California Press, 2007), chronicles the lives and accomplishments of early civil rights organizers in the Mississippi Delta. In the book, he shows how leadership can develop in ordinary men and women, and how an idea such as freedom can take shape through their actions.
Payne is one of the most sought out-voices on the struggles of urban schools. His groundbreaking book on urban school reform, "So Much Reform, So Little Change" (Harvard Education Publishing Group) was published in 2009. The SU School of Education used this book as the basis of a school-wide faculty retreat. Payne has also been a distinguished speaker in the school's Landscape of Urban Education Lecture Series.
Payne is the former interim chief education officer for the Chicago Public Schools. He was the acting executive director of Woodlawn Children's Promise Community from 2009-11.
He has taught at Williams College, Duke University, Northwestern University and Southern University. He has also been the recipient of numerous grants to support his research, including awards from the Spencer Foundation and the Carnegie Scholar's Program. He is author of "Getting What We Ask For: The Ambiguity of Success and Failure in Urban Education" (Greenwood Press, 1984).
Payne holds a bachelor's degree from SU in African American Studies and a Ph.D. in sociology from Northwestern University.