Explore 'Syracusescapes' and Capture an Image for Photo Competition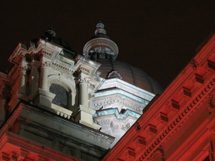 It's spring, and there is no better time to explore "Syracusescapes."
That is the theme of a Connective Corridor photography competition now under way to connect Downtown Syracuse and Syracuse University—while celebrating the unexpected and beautiful details of the city. Submissions are welcomed from members of the greater Syracuse community, including SU faculty and staff members.
Submissions should provide interesting perspectives on Downtown Syracuse across a wide range of themes—including people, places, fresh angles, environment, relationships and human interaction, art, history and more. "Syracusescapes" submissions are open to interpretation, and should be representative of the many different voices and viewpoints that Downtown Syracuse includes.
Photos must be taken in a designated map area and only high-resolution images (300 dpi) should be submitted. For contest rules, area map and instructions on how to submit images, visit syracusescapes.tumblr.com.
Images must be submitted by Wednesday, May 1.
Winning images from community members have an opportunity to be curated in a full gallery exhibition, appear in Connective Corridor bus interiors and be a part of a spring projection party. Finalists will get a special VIP Downtown Syracuse tour with Syracuse Guru and NoexcusesSYR.
For students' winning work, first place will be awarded $500 and second place will receive $250, and five honorable mentions will be awarded $50 each. The top 50 student works will be exhibited on the Connective Corridor.
The contest is sponsored by the Connective Corridor, Studio C, Syracuse Guru and NoexcusesSYR.
Studio C is a Connective Corridor project that provides creative space and technical assistance in the Syracuse University Office of Community Engagement and Economic Development for students. Within that space, students can work in multidisciplinary collaborative teams with faculty, staff and community members on special projects and initiatives that catalyze connections between the campus and community.
The Studio C student team for this project includes Chris Guimarin (communications design); Quinton Dean Fletchall (industrial design); Caitlin Moriarty (Janklow Arts Leadership Program); Chelsea Lynn Ammary (industrial design) and Cade Austin Halkyard (art photography).
For more information, email  corridor@syr.edu.