Dickens Mathieu Named Senior Vice President and General Counsel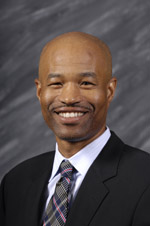 Dickens "Deke" Mathieu today was named Syracuse University's next senior vice president and general counsel. Mathieu will succeed Thomas Evans, current senior vice president and general counsel, who previously announced plans to retire on June 30.
Mathieu comes to Syracuse from Tufts University in Medford, Mass., where he serves as senior legal counsel. He will serve as the chief legal officer of the University and will provide proactive professional advice to University leaders and the campus community regarding critical strategic, legal and public policy issues, and how to achieve the mission and goals of the University. Mathieu will manage the selection and oversight of outside counsel and will also serve as a member of the Chancellor's Cabinet.
Mathieu will join Syracuse beginning June 1, when he will serve as senior vice president and general counsel-designate. He will become senior vice president and general counsel on July 1.
"Deke Mathieu brings both broad and deep experience to SU as a seasoned attorney and university counsel," says Chancellor Nancy Cantor. "We had an outstanding candidate pool that went through a very rigorous search process conducted by a committee that included exceptionally experienced legal minds and Deke rose right to the top. We're eager to have him join our senior leadership team as we offer profound gratitude and appreciation to Tom Evans for his decades of service to SU."
Chairman of the SU Board of Trustees Richard L. Thompson sees great value in Mathieu's range and quality of professional experience. "Deke is an outstanding attorney with significant work in public and private practice, as well as in higher education," says Thompson. "We look forward to him bringing that multifaceted experience to bear on advising the Board, our administrative leadership, and the University community."
In his role at Tufts, Mathieu provides legal advice in the areas of human relations, labor and employment, student affairs and academic issues, general litigation, and internal inquires and reviews. He launched his career in higher education in 2004, following several years as an assistant U.S. attorney in the U.S. Department of Justice. Prior to that, Mathieu worked in the Labor and Employment section of the international law firm of Morgan, Lewis & Bockius in Washington, D.C.
"It's truly a privilege and an honor to have been asked to serve as Syracuse University's next general counsel," Mathieu says. "Syracuse is a top-flight institution with a rich academic tradition. The scope and scale of the legal challenges at a school like Syracuse will offer many new opportunities for professional growth. One of my first goals will be to engage as many members of the University community as I can, and start building the strategic relationships necessary to provide the best service to the University from day one."
SU Trustee Donald T. MacNaughton, who chaired the search committee, believes that Mathieu will begin realizing his potential immediately. "Deke's extensive and very successful experience as a university counsel at another outstanding research institution, along with the nationally recognized quality of his work among his peers, will position him to make significant contributions at SU immediately," says MacNaughton.
Mathieu is actively involved in the National Association of College and University Attorneys (NACUA), having sat on its board (2009-2012), presented at its conferences and served on various committees. This June, Mathieu will be honored with NACUA's "First Decade" award for outstanding service in the advancement of the profession of higher education law. He is a founding member of the board of directors of Discovering Justice, and served on the Colleges and Universities Steering Committee of the Boston Bar Association.
Born in Port-au-Prince, Haiti, Mathieu grew up in the Boston area. He graduated from Amherst College with a B.A. in political science and received a J.D. degree from the University of Virginia School of Law. Mathieu and his wife, Divya, have two children, Deviyani and Dashiel.