STEM
Designing the Street Smart Phone
Meet the "smarter" New York City payphone. The push buttons and coin slot of the past are inevitably replaced with a touch screen and card swipe, plus camera, solar panels and capabilities for emergency alerts and wayfinding.
These are just some of the features for a 21st century payphone re-envisioned by a winning team of collaborators, including two School of Architecture students and a faculty member with the School of Architecture and the L.C. Smith College of Engineering and Computer Science, for New York City's Reinvent Payphones Design Challenge.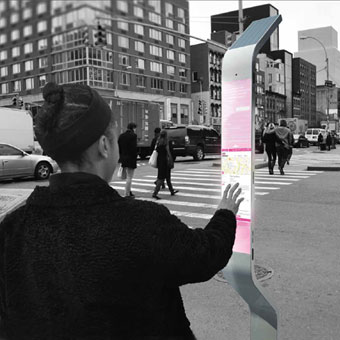 New York City, which manages more than 11,000 public payphones throughout its five boroughs, devised the competition to reimagine a new phone prototype, in anticipation of the city's service vendor contract ending in 2014. Payphone use has decreased with the use of mobile devices, but payphones still serve New Yorkers and visitors every day.
Out of 125 submissions, the team's design, Smart Sidewalks: Thinfrastructure for the 21st Century, won for best functionality, one of the five criteria categories.
Architecture students Jesse Ganes '14 and Grant Foster '13, and Assistant Professor Sinéad C. Mac Namara were part of the Smart Sidewalks team that presented their design March 5 in New York City as one of 11 finalists in the competition. They were announced as one of the five criteria winners at the event.
"After seeing the various designs, we had a sense that our project stood out," Foster says. "We were one of the few groups that showed we had a very 'form following function' mentality—everything that was needed was in there."
The Smart Sidewalks design includes a six-inch metallic strip that rises up from the sidewalk, which functions as a touch-screen, Wi-Fi hub, energy source and charging station, among other functions, with storm runoff storage below.
For the design team, there were three aspects of the device: communications, wayfinding and sustainability, with integrated solar panels and embedded bioswales to help retain rainwater and prevent runoff into sewers during heavy rainfall. "It was bringing these three aspirations together and packing them into as small of a footprint as possible," Ganes says.
Team Effort
Ganes, Foster and Mac Namara were brought into the project by Brett Snyder, assistant professor at University of California and former assistant professor in SU's School of Architecture, who led the team. All three had worked on various projects with Snyder in the past.
The team, which also included colleagues from UC Davis, Parsons New School of Design, Rama Chorpash Design and Cheng+Snyder, came up with a plan fairly quickly, engaging in conversations online.
"We did some initial brainstorming of possible functions this device could have. We only had two weeks to design and represent this idea," says Ganes, who is currently studying in New York City with the School of Architecture program. "Once we had the initial idea and functionality, we engaged in Skype conversations to get everyone on the same page and then we split up into different roles, representing different aspects of the project."
Ganes worked on the three-dimensional renderings that showed the device in action. "My task was finding views that would show off the different aspects of the device's functionality in the best way," Ganes says.
Foster focused on the user experience and created a video that highlighted the functionality. "One thing we really thought about was the different users groups," Foster says, such as tourists needing wayfinding or neighbors who might need to be alerted to a crime in the area.
[quote style="boxed" float="right"]The students' work in our presentation showed a level of sophistication in the representation that outshone many of the professionals."-Sinéad C. Mac Namara[/quote]Mac Namara calculated the technical aspects of the device through its schematics to make sure it would stand up to the elements and that the structure was safe, making some recommendations about its thickness at the base.
"Once we learned we were among the finalists, we upped our game a bit, created more renderings, and I made a finite element analysis to double check my initial calculations," Mac Namara says. "As an engineer, I was really glad to win for functionality—that ours was the most designable and realizable. We did a more comprehensive job than other entrants in resolving multiple technical specifications."
The user interacts with the device on a front panel that includes a touch screen and sound inputs, with a scrolling screen to accommodate various user heights. The credit card swipe, speaker and charger are on the side. The device also senses wind speed, rain fall, temperature and foot traffic and guides citizens away from danger to higher ground, such as in a hurricane.
Mac Namara says the students' work was every bit as good as, if not better than, the professionals who had entered into the competition. "The students' work in our presentation showed a level of sophistication in the representation that outshone many of the professionals," she says. "It's nice to see the students get recognition for that."
The city is expected to release a request for proposals that would include the best features of the various designs. "Once the document becomes available, we'll look at it and decide whether or not we would submit a more technically developed version of this," Ganes says.
The team is optimistic about the design's future. "A payphone can look good, but the main thing is that it has to function well," Foster says. "Coming from architecture, our aesthetic decisions are concerned with function—we pride ourselves on creating usable objects that make a positive impact."