Design Team Selected for Movement on Main: Designing Healthy Main Street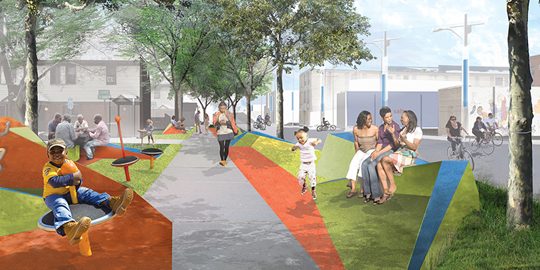 A team led by STOSS landscape urbanism, including Höweler + Yoon Architecture, Nitsch Engineering and Angie Cradock Sc.D, MPE, has been selected as the winning design team for the Movement on Main: Designing the Healthy Main Street competition in Syracuse. The announcement was made today by the Near West Side Initiative, in partnership with UPSTATE: A Center for Design, Research and Real Estate in the School of Architecture.
Movement on Main seeks to tie together the investments being made on Wyoming Street as a part of the revitalization of Syracuse's traditionally impoverished Near West Side neighborhood. This street is anchored on the north by the new WCNY broadcast facility and on the south by the rehabilitation of Nojaim Bros. grocery store and the expansion of St. Joseph's Westside Clinic. This unique and innovative street redesign will create a new public gathering place that encourages the community to engage in the neighborhood's emergent creative life through a variety of movement and new technologies.
STOSS's proposal "Light-Play!" was among five competitive proposals by talented interdisciplinary teams reviewed by a panel of jurors consisting of Near West Side residents and business owners, School of Architecture professors, SU's Office of Community Engagement and Economic Development staff, city and county officials, experts in health services and human dynamics and Richard Weller, the chair of landscape architecture at the University of Pennsylvania.
"Light-Play!" focuses on shaping healthy bodies, a healthy street and a healthy—and vibrant—community in the Near West Side.  The design plays with light and colorful materials to create a new identity for Wyoming Street, a new activity center for neighborhood life and playful new surfaces and structures that inspire movement in people of all ages. The design proposal includes activity mounds (small and large), seating elements and rain gardens—arranged as social rooms along the street that allow for people to sit, jump, skip, run, sled and play. Additionally, projected lights are activated at night by people via motion sensors, and reflective surfaces.  Tilted panels, colored paint in street and on light poles, and embedded road reflectors will catch the headlights of passing cars, engaging all of Wyoming Street in a display of flickering lights and glowing walls.
The winning design proposal takes a broad understanding of health, one in which physical, psychological, social, environmental and public health are all intertwined and can contribute to an enhanced sense of community. "Light-Play!" addresses all of this, in a concentrated and fun streetscape that beckons people to interact, to move, to engage.
"The winning design offers a clear and robust vision of an exciting social space, which will bring new energy to the Near West Side neighborhood and appeal to the whole community," says Jury Chair Richard Weller. "The design cleverly apportions the budget in a strategic manner, creating a linear play-scape that will activate the community and be a catalyst to further urban revitalization. The jury was particularly impressed by the way in which the design also broached the night-time use of the site."
STOSS will now begin the process of working with neighborhood stakeholders, particularly residents and business owners and county and city officials, to develop complete designs and construction documents for the five blocks of Wyoming Street. This will be a multi-month process that will begin in this summer.
STOSS is a Boston-based, collaborative design and planning studio, founded in 2000, that works at the intersection of landscape architecture, urban design and planning in an emerging field known as landscape urbanism. STOSS was instrumental as one of the first studios to bring this emerging theory into professional practice, with real clients, real sites, real budgets and real people. For this, they were recognized with the 2012 Cooper-Hewitt National Design Award in Landscape Architecture. 
The five finalists reviewed by the jury were teams lead by Coen + Partners, Inc. of Minneapolis, Minn.; King and King Architects of Syracuse, with Urban Movement Design; Marpillero Pollak Architects of New York, N.Y.; peg office of landscape + architecture of Philadelphia, with Sp(a)de Architecture, Barton & Loguidice, P.C. Engineering; and STOSS Landscape Urbanism of Boston, with Höweler + Yoon Architecture, LLP, Nitsch Engineering, Inc. and Angie Cradock.
The jury also acknowledges the submission by the team led by Marpillero Pollak Architects with the award of an honorable mention. This design brought an exceptional level of research and creativity to bear on the project's broader context.
This competition is enabled by funding by the Educational Foundation of America.
For more information, additional images of the winning design, and a full list of sponsors, visit the competition website at movementonmain.com.