#CUSEtoATL: Capturing the Spirit of Orange Nation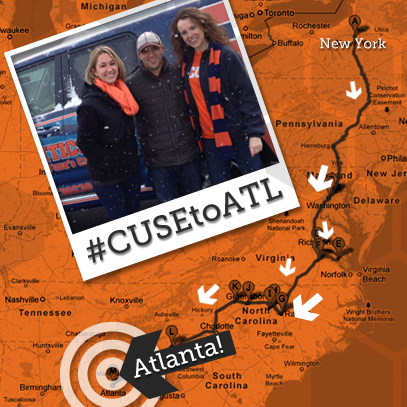 The Orange Nation is not so much a place, as a state of mind. You can be anywhere in the country—or the world—and still be in the heart of the Orange Nation. So, as the men's basketball team prepares for its Final Four showdown, we've hit the road to discover the stories, achievements, and "love of all things Orange" that are so much a part of the SU spirit.
Syracuse University staffers Kim Brown (@kimincuse), Kerri Jennings (@Cuse), and Alex Souza are driving from the SU main campus to Atlanta. They're looking for alumni and fans to reach out to them, put their Orange pride on display, and show how they're making a difference in their communities. The team will share stories, pictures, and video from the road and also when they return to Syracuse. You can follow their journey and share the experience on the SU website, Facebook accounts, and via Twitter at #CUSEtoATL. Go Orange!
Cities on the #CUSEtoATL route include:
Washington, DC
Richmond, VA
Raleigh, NC
Chapel Hill, NC
Durham, NC
Greensboro, NC
Winston-Salem, NC
Huntersville, NC
Charlotte, NC
Greenville, SC (TBD)
Atlanta, GA