STEM
Connective Corridor Earns Platinum Award from ACEC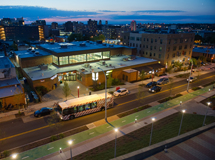 The Connective Corridor has been awarded the American Council of Engineering Companies Platinum Award for Transportation projects—another recognition of the collective efforts of the City of Syracuse, Onondaga County, Syracuse University and Connective Corridor design team Barton & Loguidice (B&L).
The award to B&L was made in the transportation category for the Syracuse Connective Corridor, Phase One. Bestowed earlier this month in New York City, the award recognizes the achievements of New York's world-class engineering firms.
"The Connective Corridor has been one of the most challenging and rewarding projects we have worked on," says John P. Donohue, senior vice president of B&L. "To be recognized by the ACEC for engineering excellence is very gratifying, and highlights the high level of teamwork and cooperation provided by the City of Syracuse, Syracuse University, Onondaga County, NYSDOT, FHWA and the consultant team."
A hallmark for more than 40 years, the ACEC Engineering Excellence Awards ceremony—the "Academy Awards" of the engineering industry—is held at the Waldorf-Astoria to honor member firms for design achievements of superior skill and ingenuity. Firms submit projects that are judged on a rigorous set of criteria, which includes complexity, innovation and value to society. Project entries are reviewed by a distinguished panel of judges on the basis of uniqueness and originality, technical value to the engineering profession, social and economic considerations and success in meeting client goals.
"This peer award is a professional affirmation of the Connective Corridor as a well-designed urban streetscape project," says Linda Hartsock, who directs the Connective Corridor in the Syracuse University Office of Community Engagement and Economic Development. "It is a vibrant, well-engineered multi-modal network with strong elements of greenspace, as well as a bold visual identity that connects economic, social and cultural assets throughout the city. It's also become a great teaching tool, particularly for design and engineering students to learn about construction design and controls. We hope it will be used by faculty and students at Syracuse University, as well as scholars around the country and the world, as a basis for research, demonstration and publication."
ACEC honors for exceptional projects in public infrastructure and private sector works were made in 11 categories, including building systems, structural systems, transportation, energy, environmental, waste and storm water, and special projects.
"The Engineering Excellence Awards program is an opportunity for the engineering community to recognize innovation and creativity from both the engineers that design and the clients that inspire," notes Erich Arcement, senior vice president of Schwartz Engineering, who chaired the Engineering Excellence Committee.
"It is never easy to choose winners from among the remarkable projects," adds Gregs G. Thomopulos, chairman and CEO, Stanley Consultants, and ACEC chairman. "These awards celebrate the accomplishments of some of the finest engineering companies in the U.S. and the world. The wide variety of projects that are showcased each year highlights the breadth of engineering capabilities, innovation and excellence that have made the U.S. the leader in the provision of technology-based services for the built and natural environment.
ACEC New York is a coalition of more than 270 firms representing every discipline of engineering related to the built environment—civil, structural, mechanical, electrical, geotechnical—and affiliated companies. It is a diverse group of consulting engineering firms from across New York State, ranging from sole proprietors to multinational corporations that collectively employ more than 20,000 New Yorkers and nearly 10 times that number worldwide. Since its founding in 1921, ACEC New York has served as a source of ideas, a sounding board and a professional resource for state and city leaders, as well as advocates of the profession, weighing in on many important issues of the day, from infrastructure investment, efficient energy policy and alternative delivery systems to improving procurement practices.