Community Engagement to Be Honored at Annual CAPES Award Ceremony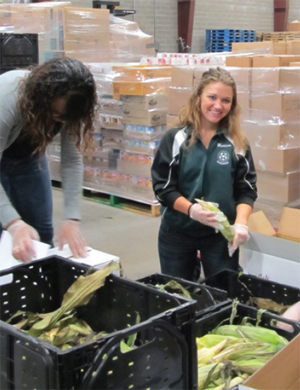 Syracuse University will honor students, faculty, staff and community partners who exemplify SU's commitment to engagement with the community and Scholarship in Action with the 2013 Chancellor's Award for Public Engagement and Scholarship (CAPES). The awards will be given at a ceremony on Wednesday, April 24, at 5:30 p.m. in the Joyce Hergenhan Auditorium in Newhouse 3.
SU students, faculty and staff engage in tens of thousands of hours of community-based work in the Syracuse community, the Central New York region and the world. Public scholarship is done through a myriad of SU/community partnerships and programs across campus, as well as the  Mary Ann Shaw Center for Public and Community Service. The Chancellor's Award for Public Engagement and Scholarship recognizes commitment to Scholarship in Action and investment in the public good.
The Shaw Center has named the Rescue Mission as its 2013 Community Partner.
"The robust engagement work SU students, faculty and staff are involved with locally, regionally and globally is celebrated at the CAPES event," says Pamela Kirwin Heintz, associate vice president and director of the Shaw Center. "We thank our community partners for the time and energy they commit to SU here and around the globe, helping us all learn about and better understand the complexities in our world. More importantly, they teach us how to partner and engage with community to build capacity and explore solutions. Their commitment helps us all construct experiences and learning that would not be possible alone."
This year's CAPES honorees are:
Residence Hall
Day Hall, DAYmocracy-DAYcisions 2012
Student Organization
National Society of Collegiate Scholars (NSCS), SU Chapter
Honorable Mention—SU ESF Habitat for Humanity
Student Group
A Journey Up the Hill
LCS-SRC Engineering Ambassadors Program
Innovation in Academic Achievement
School of Architecture
ARC 490/690: Independent Study: Design and Build
 The College of Arts and Sciences
Department of Languages, Literatures and Linguistics
LIN 422/622: Advanced Methods for Language Teaching
 Honorable Mention
School of Education
Department of Cultural Foundations of Education
Department of CFE/EDU 300: Dialogue in Action: Class Matters
 Legacy Award for Academic Achievement
This award is given to SU students who are members of an academic group whose consistency over a period of years, in partnership with organizations and citizens in the community, exemplifies meaningful and sustained engagement, advancing the pursuit of Scholarship in Action.
School of Education
Department of Teaching and Leadership
EDU 303: Teaching and Learning in Inclusive Schooling Spring 2012 Class
David B. Falk College of Sport and Human Dynamics
Department of Child and Family Studies
CFS 433, 493, 494: Internship Course
Department of Public Health, Food Studies and Nutrition
HPM 418: Hospitality Management Capstone Class
Genesis Health Network
HTW 227: Healthy You
HTW 304: Public Health—Quit and Stay Quit
HTW 304: Public Health—Healthy Monday at School
HTW 307: Culturally Competent Healthcare
HTW 311: Health Literacy
NSD 481/681 Medical Nutrition Therapy I
NSD 511: Nutrition Education
NSD 513—Nutrition Education Experience—ORANGE WRAP
NSD 658: Participatory Program Planning
School of Social Work
SWK 301: Foundation of Social Work Practice Course
B.S.S.W. Seniors and M.S.W. Graduate Students 435/445/671/672/771/772
Social Workers United Undergraduate and Graduate Student Organization
Martin J. Whitman School of Management
Department of Supply Chain Management
SCM 455/755: Lean Six Sigma—Radiology Department—Crouse Hospital
SCM 455/755—Imaging Department—Crouse Hospital
College of Visual and Performing Arts
Department of Design
CMD 352: Design Project Management—The Onondaga Creekwalk—City of Syracuse
Individual Awards
Resident Advisor
Maliz Mahop '15, S.I. Newhouse School of Public Communications—Mahop was nominated by multiple individuals for her caring and compassion, and her dedication to improving the college experience for the residents on her floor. She is active in numerous organizations, is balancing two majors and a minor, and makes time to check in with all the residents on her floor.
Newman Civic Fellow
Ronald James-Terry Taylor '15, The College of Arts and Sciences—Campus Compact has named Taylor as a 2013 Newman Civic Fellow. Frank Newman, a founder of Campus Compact, was a passionate advocate for the civic engagement of higher education and the role of colleges and universities in graduating students who are prepared to be active and effective public problem solvers.
2013 Inspiration Awards
The Inspiration Award recipients are nominated by the Chancellor Citation recipients (listed below). They are faculty or staff members who have been mentors, supporters and sources of inspiration for the individual awardees.
George Athanas, assistant director in the Office of Residence Life
Colleen Baish-Cameron, internship coordinator in the Department of Child and Family Studies
Janet Epstein, director of the Advocacy Center
Kimberly Johnson, senior part-time instructor in the Department of Public Health, Food Studies and Nutrition
Felicia McMahon, research associate in the Department of Anthropology
Amanda Nicholson, Professor of Retail Practice and Retail Management
Chancellor's Citations
Joseph Andrade IV, '13, The College of Arts and Sciences—Andrade joined A Men's Issue (AMI) in his first year on campus; he is now the organization's co-president. Under his leadership, the group has had an effective dual focus, meeting weekly in dialogue sessions to work on changing individual behaviors while also hosting large-scale events to expose a larger audience to their ideas. He is a member and peer facilitator of Mentors in Violence Prevention (MVP), a member of SexEsteem and treasurer of Pi Mu Epsilon national mathematics honor society.
Darcy Cherlin '14, The College of Arts and Sciences/Renée Crown University Honors Program—As a freshman, Cherlin became a tutor for the Somali Bantu refugee community. As a sophomore, she became a resident advisor in Shaw Hall. She designed programs that educated, built community, promoted inclusivity and encouraged engagement. Through SU Literacy Corps, she worked in a classroom of 25 students with severe disabilities in the Syracuse community. Her capstone project for the Renée Crown University Honors Program will describe and analyze the interactions between patients and caregivers to develop a better understanding of cultural differences from both points of view.
Alyssa Ierardo '13, The College of Arts and Sciences/ Renée Crown University Honors Program—Ierardo's interest in learning about disenfranchised groups, especially the Congolese refugees who recent immigrated to Syracuse, has brought her leadership roles during community engagement projects and has inspired her classmates to reach out to this new community. For two summers, Ierardo has traveled to Tanzania with One Heart Source, an international NGO, where she volunteered in a public health clinic for HIV/AIDS and as an English language teaching assistant. Following graduation, she will volunteer at a summer camp for children and teens with life-threatening diseases, and has applied to the Peace Corps.
Amber Lingenfelter '13, David B. Falk College of Sport and Human Dynamics—Lingerfelter hopes to work for nonprofit agencies and good causes. She majored in hospitality management with minors in both entrepreneurship and policy studies to learn crucial skills to fulfill her dream. She works 15-20 hours per week with the Institute for Veterans and Military Families (IVMF), starting as an assistant for the Entrepreneurship Bootcamp for Veterans with Disabilities and becoming a project assistant at IVMF. There, she helps to provide services to reintegrate homeless veterans into meaningful employment and deal with problems facing homeless veterans and the community level. She also volunteers at the North Side Learning Center and at the Hugh O'Brien Youth Leadership Program.
Camellia Loojune '13, Martin J. Whitman School of Management—On campus, Loojune spearheaded the revival of the Converting Organic Waste project, a project to develop an anaerobic digester on the SU campus that would turn food waste into energy, thereby reducing the school's carbon footprint and saving thousands of dollars in utility expenses. In the Syracuse community, Loojune wrote a business plan for the Rescue Mission to open a new thrift store that would target the college-aged demographic. She is active with Enactus, a student organization that produces social entrepreneurship activities to better communities. In collaboration with Enactus' faculty advisor, Loojune pitched the idea and helped win the space in Marshall Square Mall. The new store, 3fifteen, opened in August 2012 and generated more than $20,000 in its first week. Loojune is also dedicated to bettering the Whitman community, where she has had an active part in selecting the new dean and is a member of the Undergraduate Board Committee. Through Enactus, Loojune worked on collaborative effort with Chadwick Residence, a transitional home for women and their children, to help women obtain their GED, find employment and become self-sufficient, obtain their green card and work toward citizenship.
Whitney Marin '15, The College of Arts and Sciences/S.I. Newhouse School of Public Communications—This summer, while participating in the "Paris Noir" program, Marin plans to pursue an independent study of differences between the French and American educational systems based on volunteer work in a Paris school. She will continue to focus on education policy and research through her policy studies major and participation in the Rising Leaders Fellowship Program through Teach for America. With a long-term goal of becoming a filmmaker of documentaries about the U.S. educational system, Marin hones her skills as an editor at Citrus TV and works in the Newhouse Career Development Center. As a resident advisor for the Multicultural Living Learning Community, she serves as a role model for her peers and plans monthly programs and activities that highlight multiculturalism on campus.
Jesse Paez G'13, David B. Falk College of Sport and Human Dynamics—A second-year graduate student in the Department of Marriage and Family Therapy, Paez has engaged in multiple advocacy trainings at SU, including the Mentors in Violence Prevention (MVP) training, and Allies training, which is focused on how to foster relationships with those considered allies for the LGBTQ community. He co-facilitates two groups, one of which is part of the Alternatives program offered by Vera House, in which he educates men with the goal of ending abusive actions. His second co-facilitator position is the "Fusion" group at SU's LGBTQ Resource Center. Paez's master's degree project, "Advocacy and Therapy for LGBTQ Youth," was presented during the "Life Gets Better" conference held in Syracuse this year. Paez is featured in two campaign awareness videos that focus on ending abuse against women, and has also been invited to engage in an informal conversation by the Onondaga Case Management services in spring 2013, to talk about how to treat Latino males who identify as LGBTQ.  He is a host for "Nosotros" radio.
Nicole Rosenberg '13 David B. Falk College of Sport and Human Dynamics—Rosenberg has completed multiple internships in hospitals serving chronically and acutely ill children. Her work with children includes providing developmentally appropriate health care information to children and preparation and support for painful/stressful procedures and medical events. While completing her internships, Rosenberg also facilitated therapeutic and developmentally supportive play activities, emotional support, preparation for medical procedures and events, nonpharmacological pain management and supported children and families receiving end-of-life care. Rosenberg has also dedicated her time to working with children and families outside of the medical setting. She has worked at camps for children with special needs, promoting positive socialization and interaction between youth with and without disabilities. Additionally, Rosenberg is part of a peer-mentoring and advising program, through which she serves as a role model for younger students. She has also held leadership roles in organizations on campus, including Relay for Life and Rho Gamma.