Alumni Speaker Series Celebrates Asian Pacific American Heritage Month with Two Speakers
Career Services and the Office of Alumni Relations will conclude this year's Alumni Speaker Series with visits from Amnat Chittaphong '99, G'02 and Sam (Chang Gi) Hong '11. The visits are part of the Office of Multicultural Affairs' celebration of Asian Pacific American Heritage Month and are co-sponsored by several departments across campus.
Chittaphong will speak on Thursday, April 25, from 5:30-7 p.m. in Miron Room 303, located in Newhouse 1. Hong will speak on Monday, April 29, from 6–7:30 p.m. in Room 207 of the Hall of Languages. Both presentations are free and open to the public, and refreshments will be served.

Chittaphong is currently the dean of students at Holyoke Community College. Prior to joining HCC's administration, he served for two years as assistant dean of students at Hampshire College in Amherst, and for eight years as the director of multicultural affairs at Siena College. He is the former co-chair of the Asian Pacific American Network, the largest association for APAs working in Higher Education, and is past chair of the Standing Committee for Multicultural Affairs' Mentoring Program.
Chittaphong is pursuing his doctoral work in Social Justice Education at the University of Massachusetts at Amherst. He is a seasoned diversity and leadership trainer/educator and social justice consultant, with more than 15 years of experience in the field. Chittaphong earned a B.A. in political science and M.S. in higher education.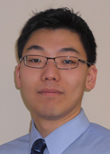 Hong lives in Michigan and works as an automotive design engineer at SL America—a supplier company to General Motors. He has spent much of his professional career specializing as a CAD designer. During his senior year at the L.C. Smith College of Engineering and Computer Science, Hong served as the senior design project engineer and designer for development of a small-scale pelletizing system for SUNY ESF campus research and development use. The goal of the project was to provide green energy research for a self-sufficient college campus utilizing natural fuels harvested and processed for pelletizing. While at Syracuse, Hong was a WellsLink Scholar and an active brother of ACACIA Fraternity. He earned a B.S. in mechanical engineering.
The Alumni Speaker Series is a collaborative effort of Career Services, within the Division of Student Affairs, and the Office of Alumni Relations, which brings SU alumni back to campus each semester to share their career stories.
For more information about the Alumni Speaker Series, contact Kim Brown (kmbrow04@syr.edu, 315-443-3616).