Advocating for the Needs of Transgender People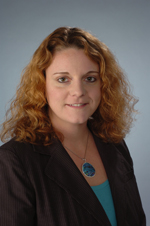 For the past nine years, Deborah Coolhart has provided a much-needed resource in the Syracuse community. Almost as many years ago, Coolhart, an assistant professor in the Department of Marriage and Family Therapy (MFT), was one of only a few mental health professionals locally seeing transgender clients. Consequently, it was difficult to accommodate the volume in her private practice.
"Transgender people have a unique dependence on mental health professionals who provide recommendations that will allow them to receive necessary medical treatments, such as hormones and surgery," notes Coolhart. "Further, many transgender people who called me did not have the financial resources to obtain private practice therapy."
Through the development of the Transgender Treatment Team, commonly referred to as the Trans Team, Coolhart was able to refer clients to the Falk College's Couple and Family Therapy Center for the services needed. When the team was first established, services were provided at a very low cost and then eventually (and currently) for no cost. The Trans Team consists of MFT graduate students guided by Coolhart who are trained in basic clinical skills to work with the transgender population. Beginning in the spring 2013 semester, Dara Shipman, an adjunct supervisor with expertise in this area, will assist in managing the Trans Team, working closely with Coolhart and Falk Endowed Professor of Marriage and Family Therapy Linda Stone Fish.
Stone Fish notes, "Deb's respectful, innovative, interdisciplinary and community-collaborative work with the transgender population and their families is beginning to receive national recognition. She was recently asked to write an article in one of the lead MFT journals as an expert on therapy with transgender individuals. The research continues to support what many of us have always known: people who live in supportive families and communities fare better than people who live in hostile environments. Deb is on the forefront of helping Syracuse be a transgender friendly community. We are lucky to have her here."
The Trans Team has grown tremendously in the past nine years. It started with just a few clients and three student therapists. Now it includes 14 students, and Falk College's Couple and Family Therapy Center has approximately 30 transgender cases. Coolhart has seen significant change in the lives of the transgender community in the Central New York area as a result of the Trans Team's work. "Many clients have gained free access to mental health recommendations for the medical treatments they need to live more congruent lives. Couples and families have been assisted in the adjustment process that occurs when a loved one undergoes gender transition. Community advocacy has been achieved by student therapists interacting with school systems and places of employment to educate about transgender identities and to promote just and sensitive conditions for trans people in these settings," she notes.
Several scholarly projects involving students and Coolhart have resulted from work on the Trans Team, including a manuscript published in 2008 that appeared in the Journal of GLBT Family Studies. A second article titled, "Therapy with Transsexual Youth and Their Families: A Clinical Tool for Assessing Youth's Readiness for Gender Transition" is now in press with the Journal of Marital and Family Therapy and was coauthored by Coolhart, newly appointed adjunct supervisor Dara Shipman and other students. Coolhart and her students have presented nationally on this topic, including at the American Association of Marriage and Family Therapy (AAMFT). This semester, a Trans Team student will be presenting on working with transgender clients in Professor Keith Alford's SWK 328 class, "Human Diversity in Social Contexts."
Students working with the Trans Team benefit from this experience tremendously. "They leave our program equipped to sensitively serve this population and to provide recommendations for transgender medical treatments. No other MFT program provides this type of training and incoming students are beginning to report that they are choosing SU's MFT Program because of the opportunity to be a part of the Transgender Treatment Team," concludes Coolhart.