5K Run/Walk at SU to Benefit Boston Marathon Bombing Victims
Keeping the P(e)ace aims to empower students to help make a difference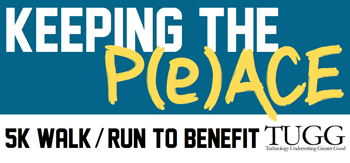 Syracuse University's 2012-13 Remembrance Scholars will host a Keeping the P(e)ace 5K run/walk on Sunday, April 28, on the SU campus to benefit the victims of the Boston Marathon bombing.
The run/walk is open to all members of the SU and greater Syracuse communities. Community members may park in the Waverly parking lot off South Crouse Avenue. Registration will open at 11 a.m. at the Schine Student Center. The run/walk will begin promptly at noon and will follow three marked loops around campus.
The entry fee is a suggested donation of $10, but all participants are encouraged to donate as much as they see fit. All proceeds from the race will benefit TUGG (Technology Underwriting Greater Good), as part of a special fundraiser the organization is doing to benefit victims of the Boston Marathon bombing. All funds will be focused toward providing assistance to the victims and their families.
The first 150 students who donate $10 or more will receive a free T-shirt.
The event is being organized by the 2012-13 SU Remembrance Scholars, who are selected each year to represent the 35 students and all 270 victims who died in the Pan Am 103 bombing over Lockerbie, Scotland, in December 1988.
"As Remembrance Scholars, it's our responsibility to help educate the SU community about the impact of terrorism and promote peace," says Stephanie Kranz, a Remembrance Scholar who first came up with the idea to hold the race. "Many of us are runners, or know people living in Boston, and we want to show our support. It embodies our Remembrance Scholar mission of 'Look back, act forward.'"
Prizes will be awarded to the top two donors, as well as to the first-place men's and women's finishers. Refreshments and live music will follow the race.
For more information, visit remembrance.syr.edu follow @RemembranceSU and #runs4boston on Twitter.