2013 Poster Project Unveiling Ceremony Slated April 18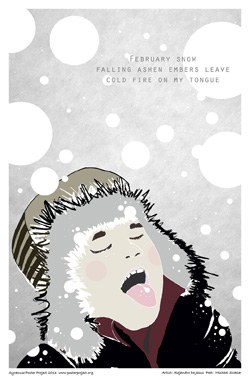 The Syracuse Poster Project will unveil its 12th annual poster series Thursday, April 18, from 6-8 p.m. at City Hall Commons, 201 E. Washington St. The Syracuse Poster Project brings together community poets and Syracuse University artists to create an annual series of poetry illustrations for the city's poster panels.
Every year, members of the Syracuse community and surrounding areas are asked to submit haiku about downtown, the city or the nearby countryside. Students from SU's illustration department create posters based on the haiku of their choice. The project selects the top 16 posters, and these go on display along Salina and Warren streets, beginning in April.
Since its inception, the Poster Project has worked to enliven downtown and strengthen the city's sense of community. The project highlights Syracuse's creativity, and reaches beyond the city through the sale of poster prints, note cards and poetry.
This year's series includes 15 posters by advanced illustration students, and one poster by Yvonne Buchanan, an instructor in the illustration program. Buchanan's poster reversed the typical process. She created an illustration of women going to church in fancy hats. Poets were then invited to submit haiku to complement the image.
Each year, the project sees new expressions of common themes. This year's posters reflect on nature (Onondaga Lake, the changing of the seasons), interactions with wildlife (crows, foxes, geese) and Syracuse landmarks (Columbus Circle, the Landmark Theater).
At the unveiling ceremony, poets and artists will meet for the first time, and briefly speak to the audience about their work. Shortly after the unveiling, the Downtown Committee of Syracuse will install the posters along Salina and Warren streets. The posters remain on display for a year.
The annual production of posters is made possible by in-kind support from the Downtown Committee and financial support from corporate sponsors. This year's corporate sponsors include C&S Companies, Seneca Federal Savings and Loan Association, Anaren Microwave, Byrne Dairy, Geddes Federal Savings and Loan Association, KS&R, King & King Architects and Hueber-Breuer Construction Corp. This year's series also received funding from Tomorrow's Neighborhoods Today and CNY Arts, a re-grant program of the New York State Council on the Arts.
Beyond the poster panels, the Poster Project reaches the larger community by selling poster products, including poster prints, note cards and poetry booklets. It also exhibits a complete set of the prints at a different downtown venue each month.
Prints can be purchased at Eureka Crafts in Armory Square; at the Copy Centers, 131 S. Salina St.; and at the Poster Project's online store. All proceeds help the project become self-sustaining.
For more information and general questions, contact Jim Emmons, project coordinator, at jim@posterproject.org. For more information about the artistic process, contact Professor Roger DeMuth, of SU's illustration program, rdemuth@syr.edu, or 315-655-8599.
The 2013 poet-artist combinations include:
Poet/Artist
Eric Darby/Amanda Shaffer
Mary Gardner/Elizabeth Latella
Teresa Gilman/Stephanie Boyle
Robin Gross/Dylan Allen
Sally Lloyd/Vicky Shum
Joan Loveridge/Joel Jensen Heath
Ricky Meaweather/Walker Kampf-Lassin
Erin McConnell LaFayette/Courtney Gilbert
Lynn McDonald/Hansol Kim
D. Miori-Merolla/Danielle Ceneta
Anna Pyrochanych/Yvonne Buchanan
Tom Rhoads7 Katie Hampton
Janice Scully/Carolyn Glavin
Michael Sickler/Alejandro DeJesus
Mary Taitt/Chole Tran
Stephanie Todero/Heather Ryerson