Arts & Culture
2013-14 Syracuse Stage Season Offers Classics Coupled With Hot Contemporary Plays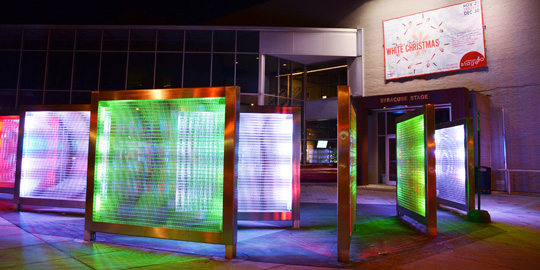 Syracuse Stage announced its upcoming 2013-2014 season, offering well-known classics coupled with works that have created a significant buzz in New York, around the country and even the globe.
The season will be dedicated to Arthur Storch (1925-2013), the founding producing artistic director of Syracuse Stage and former chair of the Department of Drama in the College of Visual and Performing Arts.
"For the 2013-14 season we are offering six extraordinary and entertaining plays that make an exciting blend of treasured classics and stimulating and provocative new work," says Producing Artistic Director Timothy Bond. "Dedicated to Arthur Storch, the upcoming season captures the spirit of what has always been best about Syracuse Stage: fresh and invigorating new looks at works we cherish, coupled with the best of what's current."
Three of the plays are interpretations of well-known classics first produced during Storch's first nine seasons. Kicking things off in September is the delightful and funny "Blithe Spirit." The holidays will bring back "A Christmas Carol" in a new-to-Syracuse adaptation by acclaimed playwright Romulus Linney. The third classic is "The Glass Menagerie" by Tennessee Williams, with a bold new interpretation directed by Bond.
The other three plays represent some of the best new theatrical works: David Henry Hwang's hit Broadway comedy "Chinglish," Matthew Lopez's highly original Civil War drama "The Whipping Man," and the international sensation "Scorched" by Canadian-Lebanese playwright Wajdi Mouawad.
Season tickets include one ticket to each of the six plays, a complimentary seventh ticket, discounts at area restaurants, unlimited ticket exchanges, discounts on additional single tickets and the Syracuse Stage newsletter StageView mailed to your home.
For no additional charge, season ticket holders may request seating for dates that coincide with a variety of special events and programs, including Wednesday @ 1 Lectures, actor talkbacks, sign-interpreted performances, audio-described performances, open-captioned performances, Live in the Sutton opening night performances, and happy hour events.
Season tickets are now on sale, with priority seating given to current season ticket holders who will receive a packet in the mail with instructions on how to renew their seats. For more information, contact the Syracuse Stage Box Office at 315-443-3275, visit in person at 820 East Genesee St. (Monday through Friday, 10 a.m.–5 p.m.), or visit www.SyracuseStage.org.
Blithe Spirit
By Noel Coward
Directed by Michael Barakiva
Sept. 18-Oct. 6
Novelist Charles Condomine enlists Madame Arcati, one of the most delightfully eccentric characters you will ever meet, to hold a séance at his home hoping to raise some ideas for a new book. Instead, she raises the ghost of his former wife, Elvira, who is determined to wreak havoc (and succeeds) on Charles' current marriage to Ruth. Recently revived on Broadway to hilarious effect, "Blithe Spirit" is one of Coward's most sparkling comedies.
"Blithe Spirit can still keep an audience in a state of tickled entertainment." – The New York Times
Scorched
By Wajdi Mouawad
Translated by Linda Gaboriau
Directed by Marcela Lorca
Oct. 23-Nov. 10
After their mother's death, twins Janine and Simon, guided by letters the mother has left each, travel to the Middle East to untangle family roots entwined in a war-ravaged past. A play of raw power and poetic resonance, the Syracuse Stage production will feature original music by the world-renowned Kronos Quartet and marks the return of director Marcela Lorca ("Caroline, or Change").
"Suspenseful and engrossing … echoes the lyricism and power of Greek tragedy."  – The New York Times
A Christmas Carol
By Charles Dickens
Adapted by Romulus Linney
Directed by Peter Amster
Nov. 23-Dec. 29
The beloved family classic returns to Central New York after a seven-year absence in a music-driven adaptation and production from Peter Amster ("Moby Dick," "The 39 Steps," "The Fantasticks"). "I was amazed not only at its beauty and durability, but its blazing theatricality," remarked playwright Romulus Linney of Dickens' most famous Christmas story. "It is part Hamlet, in its devastating revelations by fantastic ghosts, part Everyman, in its sure progression toward spiritual salvation, and part Charlie Chaplin, in its fun and overflowing good spirits."
The Whipping Man
By Matthew Lopez
Directed by Timothy Bond
Jan. 29-Feb. 16, 2014
Richmond, April 1865. The Civil War has ended and Caleb DeLeon, a badly wounded Confederate soldier, stumbles into the ruin of what was once his home. His family has fled the city's destruction, leaving two former slaves, Simon and John, to wait and watch. Together they care for the wounded Caleb and having adopted the religion of their former owners, celebrate Passover. A mesmerizing drama where secrets are revealed and the plot twists and turns. Since opening off-Broadway to critical acclaim and winning the Outer Critics Circle Award for Best Play, "The Whipping Man" has become one of the most produced plays in the country.
"Someone must succeed August Wilson, it might as well be Lopez." – Minnesota Monthly
Chinglish
By David Henry Hwang
Directed by May Adrales
Feb. 26-March 16, 2014
A hilarious new comedy about the misadventures of miscommunication.  An American businessman arrives in a bustling Chinese province looking to score a lucrative contract, but the deal isn't the only thing lost in translation as he tangles with a government official, a bumbling consultant and a suspiciously sexy bureaucrat. Time magazine named Chinglish one of the best plays of 2011.
"A triumph in any language. 'Chinglish' is sexy, fun and hilarious."  – New York Magazine
"One of the funniest plays in memory."  – Chicago Sun-Times
The Glass Menagerie
By Tennessee Williams
Directed by Timothy Bond
April 2-27, 2014
"The Glass Menagerie" is the play that launched Pulitzer Prize-winning playwright Tennessee Williams' career and is among the masterworks of the American stage. Drawn from Williams' life, this moving play explores the illusory nature of dreams and the fragility of hope. Abandoned by the father of her children, Amanda is obsessed with finding a suitor for her shy and vulnerable daughter, Laura. Tom, the restless and sensitive son who narrates the story, eases his frustrations with nighttime escapes to the movies. At Amanda's urging, Tom asks a co-worker to dinner. Can this "gentleman caller" offer any light to these bruised souls clinging to the tattered edges of lost dreams and faded hopes?