Water Politics Topic of 2013 Phi Beta Kappa Visiting Scholar Lecture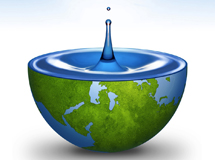 Water politics and distribution are the topics of the 2013 Phi Beta Kappa Visiting Scholar lecture, which will feature John A. Agnew, Distinguished Professor of Geography at the University of California, Los Angeles (UCLA).
Agnew will present "Rethinking the World Water Problem" at 3:30 p.m. Thursday, March 21, in Shemin Auditorium. The lecture is free and open to the public.
The Phi Beta Kappa Visiting Scholar Program makes available each year a number of distinguished scholars who visit colleges and universities with chapters of Phi Beta Kappa. The Kappa Chapter of New York at Syracuse University is hosting the 2013 Visiting Scholar lecture. Co-sponsors are the Renée Crown University Honors Program and the Department of Geography in the Maxwell School of Citizenship and Public Affairs.
Water management, access, allocation and services are global issues. The United Nations declared 2013 the International Year of Water Cooperation and designated March 22 as World Water Day. Agnew's paper, "Waterpower: Politics and the Geography of Water Provision," which provides a framework for his lecture, was published in the Annals of the Association of American Geographers in March 2011.
In the article, Agnew argues that "Attention to politics provides a way of mediating between the arguments and the evidence about the physical geography of water, on the one hand, and the workings of socioeconomic and administrative institutions that manage and provide human access to that water on the other."
Agnew taught at SU for 20 years before moving to UCLA in 1996. His research concerns political geography, international political economy and European urbanization, with a special emphasis on Italy. He is the coeditor of "The Sage Handbook of Geographical Knowledge"; "Wiley-Blackwell Companion to Human Geography"; "Landscapes, Identities and Development"; and "Contemporary Foundations of Space and Place"; and the author or coauthor of "Globalization and Sovereignty" (Outstanding Academic Title, Choice); "Berlusconi's Italy: Mapping Contemporary Italian Politics"; "Hegemony: The New Shape of Global Power" (Outstanding Academic Title, Choice); "The Geography of the World Economy"; and "Making Political Geography."
Agnew is past president of the Association of American Geographers, recipient of the association's Distinguished Scholarship Award and a fellow of the Royal Geographical Society. He holds a bachelor's degree with honors from the University of Exeter, and a master's and Ph.D. from The Ohio State University.