University Lectures to Screen Award-Winning Documentary 'Chasing Ice'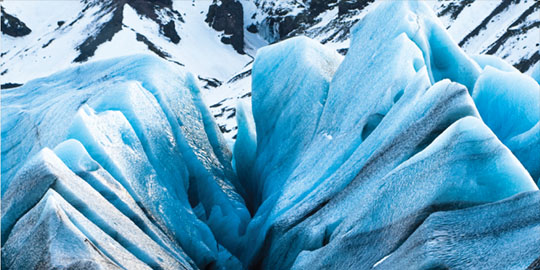 Over a seven-year period—through millions and millions of camera clicks made in some of the Earth's harshest conditions—renowned environmental photographer James Balog captured undeniable evidence of our changing planet.
Glaciers sliding into the sea. Coastlines redefined. Landscapes gone forever.
These stark, shocking images will all come to life at Syracuse University on Tuesday, April 16, during the screening of "Chasing Ice," Balog's award-winning 2012 documentary. The screening, a special presentation of the University Lectures series, will begin at 7:30 p.m. in Hendricks Chapel and is free and open to the public. CART will be available during the screening. Reduced-rate parking will be available in Irving Garage.
In the spring of 2005, Balog headed to the Arctic with a challenging assignment for National Geographic—to capture images to help tell the story of the Earth's changing climate. Balog had been a skeptic about climate change in the past, but this initial trip opened his eyes and inspired a challenge within him.
"Chasing Ice" (www.chasingice.com) is the story of Balog's mission to change the tide of history by gathering undeniable evidence of our changing planet. Within months of that first trip to Iceland, he conceived the boldest expedition of his life: The Extreme Ice Survey. Balog and his team deployed revolutionary time-lapse cameras across the Arctic to capture a multi-year record of the world's changing glaciers.
"Battling untested technology in subzero conditions, he (Balog) comes face to face with his own mortality," according to the "Chasing Ice" website. "It takes years for Balog to see the fruits of his labor. His hauntingly beautiful videos compress years into seconds and capture ancient mountains of ice in motion as they disappear at a breathtaking rate. 'Chasing Ice' depicts a photographer trying to deliver evidence and hope to our carbon-powered planet."
"Chasing Ice" has won 23 awards at film festivals around the world, including the Excellence in Cinematography Award (U.S. Documentary) at the Sundance Film Festival, The Environmental Media Association's 22nd Annual Best Documentary Award, Best Documentary at the Berkshire Film Festival and Big Sky Film Festival, and audience awards at numerous festivals, including the South by Southwest Film Festival.
The documentary's title song, "Before My Time," written by J. Ralph and performed by Scarlett Johansson and March 2003 University Lecturer Joshua Bell, was nominated for the 2013 Academy Award for Best Original Song. The song can be heard here at  http://www.youtube.com/watch?v=XLpEYxf10gM.
Balog was a guest of the University Lectures series (lectures.syr.edu) in 2011. He spoke to more than 1,100 Central New York middle- and high-school students in Hendricks Chapel the following day.
For more information about the University Lectures series, visit lectures.syr.edu.