Arts & Culture
Two Fashion Design Students Honored by YMA Fashion Scholarship Fund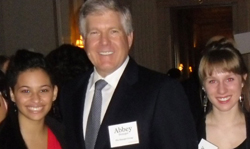 Avery Gray and Kiera Henderson, both sophomore fashion design majors in the College of Visual and Performing Arts, were each awarded a $5,000 scholarship from the YMA Fashion Scholarship Fund (FSF). The students were honored in January at the YMA FSF Geoffrey Beene National Scholarship Awards Dinner in New York City.
Founded in 1937, the FSF is a national, nonprofit association of influential members of the fashion industry. They are dedicated to promoting fashion arts and business education by granting scholarships to talented students and facilitating internships, mentorships and career programs so the students become the next generation of leaders in the fashion industry. Since 1971, FSF has awarded more than $8 million in scholarships to more than 900 students nationwide. Scholarship grants are set up by FSF in an effort to recruit, mentor and train the best students from member schools.
The $5,000 FSF scholarships are awarded based entirely on merit, taking into consideration the applicant's GPA; the completion of a case study project; a personal essay detailing his or her aspirations, job experience, community service and how the scholarship money would be spent; and a phone or in-person interview with a YMA FSF ambassador. SU's ambassador is Abbey Doneger of the Doneger Group.
For more information, visit fashionscholarshipfund.org.