Syracuse University Singers to Tour Chicago Area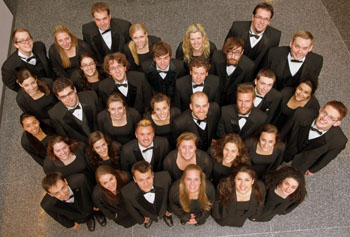 The Syracuse University Singers will travel to the Chicago area for a performance tour March 8-11. Under the direction of John Warren, associate professor of music in the Rose, Jules R. and Stanford S. Setnor School of Music in the College of Visual and Performing Arts, the ensemble will perform in downtown Chicago as well as the Hinsdale and Evanston suburbs. The tour will feature a concert and reception for SU alumni on Saturday, March 9, at 5:30 p.m. at the Evanston History Center.
Warren and the University Singers will also offer workshops for high school choirs in the St. Charles and Glenbard school districts.
For nearly 50 years, the University Singers have upheld a rich tradition of excellence in choral singing characteristic of the most select vocal musicians of the Setnor School of Music. Known for its sensitivity to detail and musicianship, the choir delights in its diversity in repertoire. Whether performing a Renaissance motet, an African American spiritual, a grand orchestral masterwork or the premiere of a contemporary composition, the choir sings with great understanding of text and style.
The University Singers is comprised of 36 undergraduate and graduate students from a variety of disciplines and regularly performs with professional orchestras in Syracuse. The ensemble has been invited to sing for multiple conferences of the American Choral Directors Association and has toured throughout the east coast of the U.S. and Canada.
For more information, contact SU Choral at 315-443-4106 or suchoral@syr.edu.