Support Syracuse's Entry in 'Bloomberg Mayors Challenge'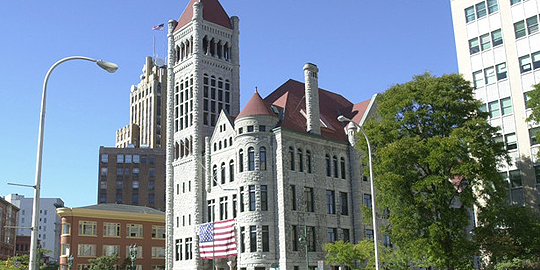 Syracuse University, along with many cross-sector partners, has worked collaboratively with the City of Syracuse to revitalize and create new opportunity in our home city. Now, the mayor of New York City and his philanthropic organization may provide the next piece of the puzzle to help in Syracuse's rebirth. A couple of mouse clicks could help bring millions of dollars to Syracuse from Bloomberg Philanthropies.
It's part of a challenge issued by New York City Mayor Michael Bloomberg to generate new and innovative ideas for solving key issues facing American cities. On behalf of a wide range of community partners, the City of Syracuse has submitted a plan to create a World Market Square, which Mayor Stephanie Miner says "will provide refugees, immigrants and people throughout the community new pathways to economic and civic empowerment while at the same time creating a platform to transform Syracuse neighborhoods." Syracuse is just one of 20 cities—including Boston, Chicago, Houston, Phoenix and San Francisco—competing for the "Fan Favorite" award.
To vote, go to http://www.huffingtonpost.com/mayors-challenge, click "VOTE: Mayors Challenge Fan Favorite Selection" and vote for Syracuse. In April, four cities will be selected to receive $1 million and one city will receive the top prize of $5 million from Bloomberg Philanthropies. A video highlighting Syracuse's efforts is featured on the Huffington Post website and Fan Favorite voting runs through March 6.
The World Market Square will be a hub of activity and a unique cultural experience, located on Syracuse's Northside. The square will feature a marketplace showcasing local goods with a global influence, and employing and empowering neighborhood residents; a plaza for community gatherings, celebrations and recreation; and a resource center that offers and unites innovative business development programs, workforce training and other services that help residents transition from just surviving to thriving.
Syracuse University Chancellor Nancy Cantor  believes the project has the potential to revitalize Syracuse's Northside in much the same way the Connective Corridor has created new energy downtown. "Throughout Syracuse's history, its greatest asset has been its people, and the World Market Square would do exactly that," she says. "It will build on this distinguished history by building up our people, celebrating the robust mix of cultures and at the same time investing in this incredibly rich and diverse human capital now and for our future."