SUArt Galleries Opens 'The eNTH Degree: MFA 2013'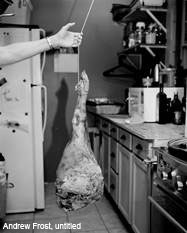 The Syracuse University Art Galleries has announced the opening of "The eNth Degree: MFA 2013." The annual Syracuse University Masters of Fine Arts exhibition includes 21 artists working in a variety of media, including painting, photography, printmaking, sculpture, ceramics, film, site-specific installation and performance.
The exhibition will run April 4 through May 12 in the Shaffer Art Building. Gallery hours are Tuesday-Sunday, 11 a.m.–4:30 p.m. and Thursdays 11 a.m.–8 p.m. The SUArt Galleries will host a free opening night reception from 5–7 p.m. on Thursday, April 4. Patrons are welcome to view the exhibition until the gallery closes at 8 p.m. The reception is open to the public.
Select programming associated with the exhibition includes a Lunchtime Lecture with Assistant Director Andrew Saluti on Wednesday, April 10, at 12:15 p.m.
"The eNth Degree: MFA 2013" unites a group of artists working exponentially beyond the confines of their studied fields, taking their work to a new level of art making. The 21 included in this year's exhibition create artwork using a contemporary methodology that transcends the pre-conceived definitions of artist's roles—a painter makes paintings; a ceramicist makes cups and bowls.
Instead, they incorporate the materials and processes from their chosen disciplines into a grander scheme of art making. Ceramicist Joel Weissman takes porcelain molds, once used as a therapeutic craft for patients in a psychiatric hospital, and casts them in iron rather than clay. Printmaker Tonja Torgerson uses her knowledge of print processes to create site-specific installations, portraits of generalized female figures dealing with physical and mental sickness. Sculptor Becky Reiser incorporates traditional foundry casting with performance and video to create her intricate narrative—a reflection on domesticity.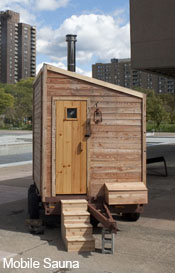 Another important element that has pervaded contemporary process is the development of collaborations that these artists employ. Included in "The eNth Degree" will be the Mobile Sauna, a fully functional performance/experience created by the DS Institute, an artistic collaboration that includes Fulbright sculptor Maximilian Bauer '12 (M.F.A.), steam expert ceramicist Zach Dunn'12 (M.F.A.), artist/social engineer Caitlin Foley, interactive installation artist Misha Rabinovich and media artist Jennifer Chan. Also included in MFA 2013 is SUB PAR, the Syracuse Urban Beautification Public Art Resistance, a public arts initiative created by exhibiting artists Torgerson and Weissman.
The exhibition and programs are free and open to the public. Complete information and related programming is available by visiting the official exhibition website at suart.syr.edu.