SU Hosts National Poetry Month with Tony Award-Winning Poets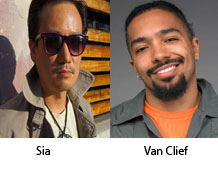 Spoken-word enthusiasts will want to save the first weekend in April to fuel their art and passion. Syracuse University's Office of Multicultural Affairs spoken word poetry program, Verbal Blend, and Nu Rho Poetic Society are hosting two seven-time Tony Award-winning HBO Def Jam Poets, Shihan Van Clief and Beau Sia, on Friday, April 5, at 7 p.m. in Joyce Hergenhan Auditorium in Newhouse 3. Doors will open at 6:30 p.m. The event is free and open to the public.
In addition, the Spoken Word Poetry Institute, a program of Verbal Blend and Nu Rho Poetic Society, will host a day workshop with Van Clief on Saturday, April 6, from 11:30-4 p.m. in Room 228B of the Schine Student Center. The workshop is free and open to the public. To attend, register in advance by contacting Cedric Bolton, coordinator for student engagement in the Office of Multicultural Affairs, at ctbolton@syr.edu or 315-443-9676.
Van Clief and Sia are noted as the most dynamic spoken-word artists of their generation. Both artists have won multiple individual and group National Poetry Slam Competitions, and have been featured on a variety of media outlets. Their talents on the international stage transcend cultural and generational boundaries, capturing the attention of people worldwide.
For more information contact Bolton at ctbolton@syr.edu.