SU Hosts Grammy Award-Winning Singer Jennifer Holliday on March 21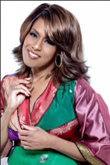 A must-see performer, powerhouse singer Jennifer Holliday will take the stage at Goldstein Auditorium in the Hildegarde and J. Myer Schine Student Center on March 21 at 8 p.m., as part of the Pulse Performing Arts Series. Tickets are $5 for students with SU I.D.; $16 faculty/staff/alumni/Pulse Partners; $20 general public. Parking is available in Booth and University Avenue garages for $4.
Thirty years ago, Holliday's show-stopping, heart-wrenching performance of the torch ballad, "And I'm Telling You, I'm Not Going," in the smash hit Broadway musical, "Dreamgirls," made her a household name and introduced her big soulful voice to the world. Her portrayal of Effie "Melody" White, a role she co-created, garnered her a Tony Award for Best Actress in a Musical and her first Grammy Award for Best R&B Female Vocalist.
Born and raised in Houston, Holliday went straight from the Pleasant Grove Baptist Church Choir to the Broadway stage. Holliday toured with the show "Your Arms Are Too Short To Box With God" for five months and then made her Broadway debut with the show. While on Broadway, Holliday's talent was noticed by the renowned Broadway director and choreographer Michael Bennett, the creator of "A Chorus Line." He invited her to participate in an untitled project that he was producing, which turned out be "Dreamgirls." The show opened on Broadway in 1981 at the Imperial Theatre and ran for five years, winning universal acclaim. Holliday's other theater credits include "Sing Mahalia Sing: The Mahalia Jackson Story," "Downhearted Blues: The Bessie Smith Story," "Harlem Suite" (with Aretha Franklin), "Chicago," "Grease" and "Black Nativity." Holliday also reprised her role as Effie to sold-out crowds in 2007.
Holliday released five albums beginning in 1983. Her second album, "Say You Love Me," won her a second Grammy for her rendition of Duke Ellington's classic, "Come Sunday." Holliday continues to believe that music has a healing power and she also strongly believes that her music and her story are her gift to her audiences.
Pulse provides SU undergraduates and the Central New York community with out-of-classroom opportunities to attend and participate in programs, performances, exhibitions and events in the performing and visual arts. Upcoming events include First Year Players' spring musical, "The Wedding Singer," on April 4-6 at 8 p.m. in Goldstein Auditorium, and the Tony-award winning playwright and screenwriter David Henry Hwang, in cooperation with University Lectures, on April 4 at 7:30 p.m. in Hendricks Chapel.
For more information on Pulse, visit pulse.syr.edu or call 315-443-2718. Become a fan on Facebook at "Pulse Performing Arts Series at Syracuse University."